Water ETF is commodity exchange traded fund I have in my regular ETF list. You should put this commodity exchange traded fund on your list too. It offers a nice possibility to actively invest in ETF shares of commodities which are not so heavily tracked by investors.
Water fund ticker
I have CGW in my ETF list. It is a Guggenheim S&P Global Water Index ETF. This exchange traded fund tracks the S&P Global Water Index. This index provides liquid and tradable exposure to 50 companies from around the world that are involved in water related businesses. These companies are generally from these two distinct clusters of water related businesses: Water Utilities & Infrastructure and Water Equipment & Materials.
How to invest in this etf?
This exchange traded fund offers a good way to actively invest into a commodity which is not so heavily tracked by commodity investors. I use my classic relative strength ETF technical strategy for trading this ETF.
Active investors could put it into their portfolio too. It offers nice trending moves in the medium-term time frame ideal for position trades.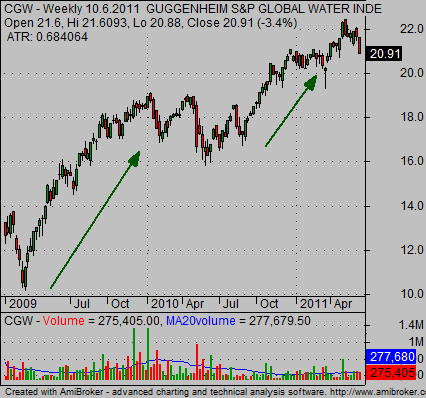 Next water exchange traded funds shares
Two other exchange traded funds are built with water as an investment idea.
PowerShares Global Water Portfolio (Fund) with symbol PIO tracks a list of companies worldwide that are engaged in the water industry. It includes international companies traded on major stock exchanges around the world.
The PowerShares Water Resources Portfolio (Fund) with symbol PHO is based on US companies involved in water business.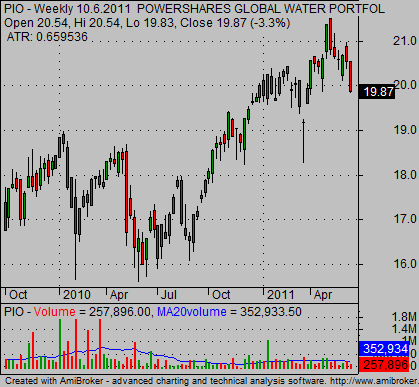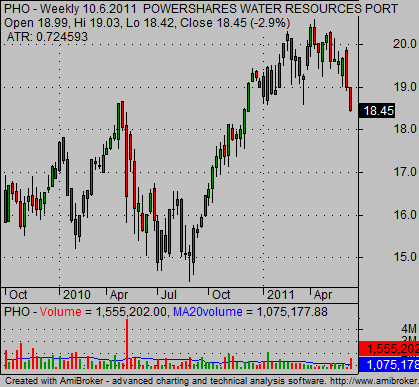 Commodity ETFs mentioned here could be traded on a technical basis as I do in my ETF Trading strategies. Or you can implement some fundamental view as is expressed in my Global macro research notes that I create for my position trade portfolio needs. Many investors think that water will be a more important commodity in the coming decades than oil is now.
The best way is to combine both methods.
Find more on related pages