Short term stock picks are good opportunity to use a few days time-frame to trade a stock for a quick profit. The main idea is to use a momentum to make quick trade that makes a lot of money.
Here are three major reasons why to look for the best stocks for a short-sell trade
The fear is much stronger emotion than greed
The stock market is not only going up, there are pullbacks or bear market periods
There are always some stock market tickers that are in pullback or outright downtrend that can be used for short term trading opportunity very well.
Fear is very strong emotion
It is a common knowledge that fear is much stronger emotion than greed. It means that a panic could push many investors into the selling mode. Many retails investors invest without any real stock investing plan. Their investments are very often based on some hot stock picks provided by popular TV shows or by some discussions in investment forums.
These investors are not able to handle situation when the stock price starts to decline or establishes a downtrend. Many of them begin to panic. It is an ideal situation for a short-term profit opportunities.
Just check this chart of the S&P500 index. It was in strong decline in August 2011. This decline erased five months' gains during three weeks.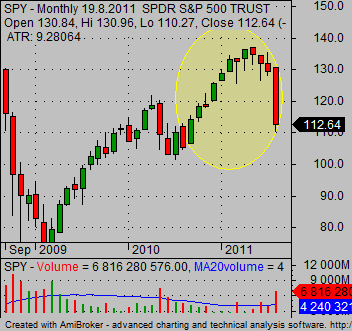 So looking for bearish short term stock picks should be a regular activity for a short-term trader. Intraday traders or swing or position traders can use these stock trading picks very well.
Find more on related pages