Best day trading software is something that every intra-day trader wants to use to make his/her short-term trades. Stock day trading software is offered by every online broker for daytrading. They have to provide you a tool that allows you to enter orders for execution of your trades.
Most day trading online brokers provide free day trading software to their clients. Intra day traders do not pay any fee for using their software. But there are also online brokers that provide paid stock daytrading software.
Even the best free day trading software provided by brokers is not completely without fees. There is a need for real-time live market quotes. Such real-time market quotes like Nasdaq quotes or Nyse quotes are not free and should be paid to these exchanges. Level 2 stock quotes are also not free and some fee for level 2 real-time streaming stock quotes should be paid.
What should best day trading software offer?
There are many features that best stock trading software for intra-day traders should offer. Some of them are basic features that could be found in any stock day trading software. Here I would like to notice some advanced features that could be very handy for day traders.
Stock quotes real-time alerts
The ability to set up several different alert types is quite a good feature that should be included in really good daytrading software. Instant personal monitoring of a situation during a trading day is boring and also could lead to exhaustion. Such situation could lead to a bad decision or missing best possible daytrade that could be the only one during a day.
Use of intraday quotes and real time alerts is one solution to this problem.
Automated day trading alerts and orders
There is another feature that should be included in really good software for daytraders. It is the possibility to set up alert that could be programmed to make some action immediately. It could be very good to have the ability to define an alert to fire order immediately when the alert condition is satisfied. Any system for daytrading expects that there will be quick actions. The possibility to have automatic software alerts and actions could be very helpful.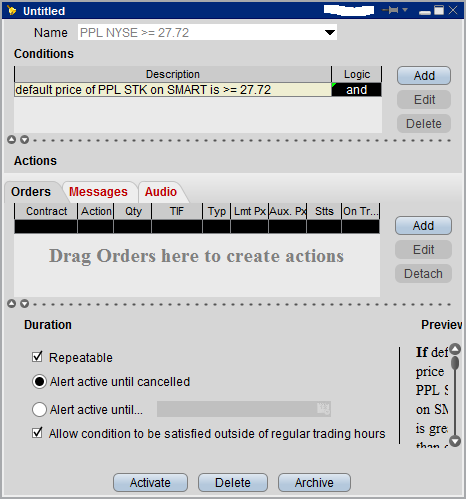 Real time stock market quotes from different sources
Does your daytrading software have the possibility to receive real-time quotes from different sources? Or do you have to use only real-time quotes that are provided by selected daytrading broker? The ability to select a real time market quotes provider is quite a good advantage as realtime stock quotes from brokers and from independent real-time providers could differ or have different quality. This option also offers a backup possibility in case there is some problem with the main real time quotes feed.
Is intra-day software trading training available?
A good day trading broker provides some tutorials or training for his software for daytrading. Pre-recorded videos or live seminars that describe all major and also very specific features of the software for daytraders are very important. You can use them when you are in the process of selecting your daytrading brokerage. They are also very useful when you use already some best day trading software and you need to learn more about some of its feature.
Find more on related pages