The US stock market trading hours define the trading time of the most important stock exchanges in the world. US stock exchanges offer the best liquidity and also the best list of stocks available for traders and investors.
It is also possible to trade solely on the US markets and take advantage of other international stock markets. It is not necessary to trade stocks directly in Europe or in Asia.
It is much better to trade them in the US. Why? The US stock exchanges offer better liquidity and better risk management possibilities. International exchanges are not so easily accessible for individual traders even if they have one of the best brokers available.
The trading conditions on international stock exchanges are not so favorable as on US stock exchanges – especially in the matter of trading fees and liquidity. It is also complicated to be available during stock market trading hours of these international exchanges if they are opened during our sleeping time.
These instruments are exchange traded funds and they offer me to trade equity exchanges in different parts of the world. My list of international ETF shares covers all major exchanges around the world.
It is also possible to trade commodities with US-listed commodity exchange traded funds. These products are available for for individual trader. and also for institutional fund traders. There are a lot of hedge funds which trade a lot of ETFs on US stock exchanges.
The third option is to trade currency market with currency ETF shares. I do not trade currency ETFs too much, as I prefer to be directly on FX markets. But I like to analyze these currency ETFs to see the situation in currency areas.
And if you have a good broker, you can trade stocks and currencies on the same account !
Best US stock market trading hours for swing strategies
When I trade US stock markets I monitor regular trading hours especially. I do not like to trade during
pre-market time or after market hours. Sometimes I use these extended hours for profit taking, but it is rare opportunity.
US markets are open from 9:30 a.m. to 4 p.m. New York time. This period could be divided into several time-frames. Some of them are more important then others.
My preferable style is swing trading stocks. I think that the most important time for my trades are the first two hours of the day and the last two hours of the day. I prefer to make my swing and also position trades in these periods.
I do not like to do anything during first 20 to 30 minutes after market open. It is a very volatile period and it is good for daytraders. But I am not this type of daytrader and so I like to let things settle a little bit.
The importance of last hour
From 10 to 11:30 is a good time for me. Another good time is from 2 p.m. to 4 p.m. Especially the last 30 minutes of the day are very important for me. It is not so well known but most institutional investors make their entries or exits during the last hour.
It is possible to understand what big investors are doing by monitoring action of the last hour. Is there strong selling in the last 30 minutes to the close? Or strong buying ? What is the preferred action by big money now ?
I have noticed many times that bullish action from the beginning of the day was totally reversed by the end-of-day selling by big money. And also bearish action in the first hours if often reversed by late buying mania.
I think that it pays to monitor these two periods of US stock market trading hours. Here is an example of price development of WBMD shares during one day.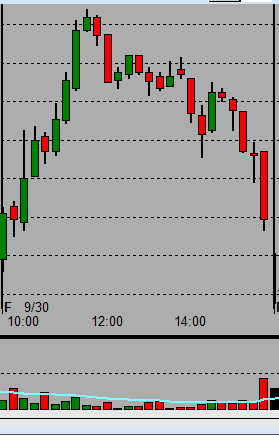 Most day trading strategies use first two hours
Daytraders prefer to use the most volatile time of the day to generate profits. These strategies expect the trade to last several minutes only.
The best time for daytrades is from the open until 10:30 or 11 a.m. I tend to recommend to daytraders avoid the first 5 or 10 minutes, as they are extremely volatile due to filling of orders placed overnight and before the market opens.
Find more on related pages