Many daytraders use simple day trading strategies. Trading classic chart patterns is a common technique that is defined as a key principle for such short-term stock market strategies.
Every good daytrading manual should describe trading classic chart patterns and strategies based on these technical ideas. The simple price action methods use classic chart patterns like flag chart patterns, wedge chart patterns, double top and bottom chart patterns and also head and shoulders patterns.
I like to use simple daytrading systems. Using chart pattern recognition on real-time stock market price charts that are charted by good day trader software is a proven method that generates nice profit.
Double top day trading pattern setup
Here is an example of a double top day trading pattern visible on a 15-minutes time-frame for etf QQQ Nasdaq 100 index fund. PowerShares QQQ etf Nasdaq 100 index fund is a very popular daytrading vehicle for stock daytraders.
15-minutes time-frame is a quite common daytrading time frame that allows you to trade a chart pattern that could be seen on an intraday stock quotes live chart in a daytrader software.
The classic day trade setup for this index ETF daytrade would be to trade the breakdown of the major support line for this double top chart pattern, right under 62.50. This is the aggressive style for trading of double top base-line breakdown.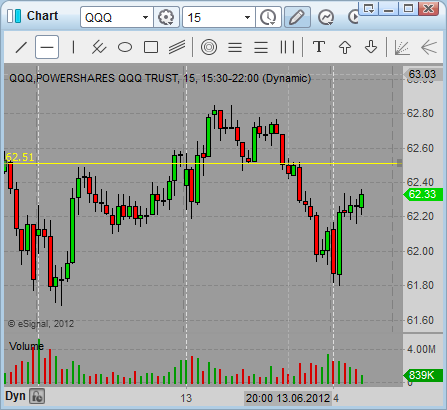 This classic strategy expects that the price starts to move down immediately as more and more traders initiate short-sell position. The second important power pushing the price down is the selling initiated by stop-loss orders of traders who hold bullish position in QQQ.
The stop loss level should not be very far from double top neckline support level. The stop loss level has to be set above this resistance line, near the 62.60 level.
Target area should be based on next important level of support that could stop price decline. The target near the 61.80 level generates quite good risk reward ratio for such trade, well above 3 to 1.
Find more on related pages