There are a lot of different stock trading platforms in the world. I have personally used several online stock trading platforms (available through a Web browser), direct access trading platforms and a currency trading platforms.
You can think that a direct access online trading platform is the best solution and that make no sense to speak about a web based platform. But my recent experience tells me that is it good to know how to use it as it can have some specific usage for every trader.
I changed my primary trade platform several times during my career (more than 10 years now). I also test a new online platforms for trade execution from time to time to check if there is something that can be good for my needs.
I have also to say that a software for equity traders and investors is continuously evolving and also my broker issues several updates of my online trading platform every year.
I developed my personal ratings for online stock trading platforms for my private purposes. Now, I would like to share my experiences with some trade software packages.
Best day trading software are direct access platforms
A stock trading for profit must be done professionally. And the professionals use direct access platforms. This type is not only the best daytrading platform but also a very good software for swing traders.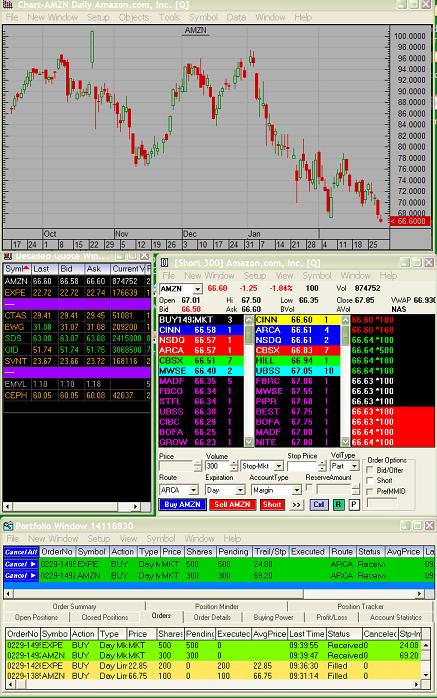 Online stock market trading platforms
These options are based on a Web browser. They  are good only for position traders and longer term active or passive investors. They do not allow a quick reaction, and so they aren't good for a short-term trade style. But you can use it also when you are traveling and need access to your brokerage account.
My favourite online trading platforms
I personally used Peak access as my favorite direct access stock trade execution platform. It fit my needs as a swing trader. Several other traders have told me that it could also be the best day trading platform. Well, I don't want to say that it's best since it's very subjective. But I think it's really good.
I also have experience with the trading workstation from Interactive Brokers. I have changed my broker to IB recently and I started to use this brokers stock trade program for my trades.
I must say that I did not liked IB TWS very much but it has changed. This broker trade execution software package is constantly evolving. Interactive Brokers company now provides really top brokerage services for my needs including very good features in their Trading Workstation – their stock trade application.
Here is a screenshot of Interactive Brokers software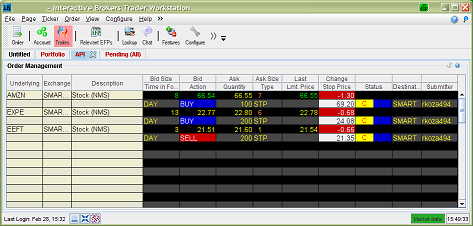 Stock trade software for CFDs and European stock exchanges
If you're thinking about European stock exchanges, you can use also Interactive Brokers as it offers wide choices for trades on many international exchanges around the world.
But if you are an European trader you can also try a Saxotrader from Saxobank. It's also quite good software if not one the best Forex online programs for traders. It has its pros and cons but my overall experience is good.
Find more on related pages