Double bottom chart pattern is a good cornerstone for a stock trade strategy. You can use it in almost any time-frame. It is popular for swing trades but mid-term position traders find it very useful as well.
Rules to trade bullish reversal bottom patterns
Recommended trade rules say to wait for a breakout of a horizontal resistance level of this reversal chart pattern. Then, a trader enters a long trade, and expects a new rising trend to develop.
The stop-loss should be below the resistance area. I do not prefer to use large stops. I know that best trades are good immediately from the beginning so it is not necessary to provide a lot of space for pullback to such trade.
Initial stop loss order should be placed right under a resistance area and moved under the breaking candlestick immediately after a break is successfully finished by the day.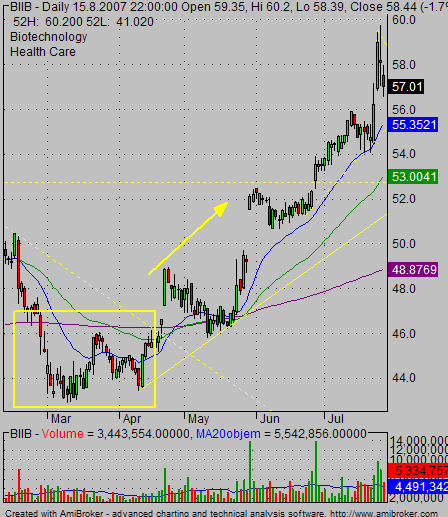 Second entry option for this stock trade strategy
You can wait to be sure that a breakout from the double bottom pattern was successful.
Wait for a pullback to the former resistance area. It should act now as a new support level. Buy it immediately when it bounces from this horizontal support. There were possible to use breakout and also pullback entry strategies on the charts of BIIB above.
Why to trade bullish double bottom strategy
This type of trading strategy is very powerful. The double bottom pattern signals strong reversal of the situation and it offers quick momentum based profits if played well.
This strategy expects the new strong uptrend emerges after breakout of horizontal resistance line of this pattern. The main power that pushes price up is in stop-loss orders of all short-sellers who were shorting this stock during its previous downtrend move.
The power of short covering is often extremely strong and pushes the price up right from the start. It makes this strategy based on reversal chart patterns very attractive for stock traders.
Find more on related pages