This is a short description of a stock markets trading software I have used for everyday trading on the U.S. stock markets. I don't know if it's the best software for stock trading, but I like it very much.
This best day trading software is used by several different brokers so you have to check if your broker can provide it for your needs. I have to say that this is really good online trading software that offers perfect execution results for day traders but also for longer term swing traders or active investors.
The executions of orders are really strong attribute of this online trading software. But you can use also several other features that include intraday and long term charting capabilities and alert functions.
PeakAccess is made by Bank of America ETS division. I know I don't use all features of this stock markets trading software, but it works as I expect and provides me the necessary tools for order entry and execution. Here are some details about this stock markets trading software:
Order entry in this stock trade software
PeakAccess' integrated order entry system allows both Point-and-Click, Keystroke and Basket order entry capability. On the Level II window traders can view each bid and offer the various Market Makers, ECNs and Specialists posts along with each price change. PeakAccess provides routing to all ECNs, NYSE, NASDAQ market makers, AMEX, regional and all option exchanges.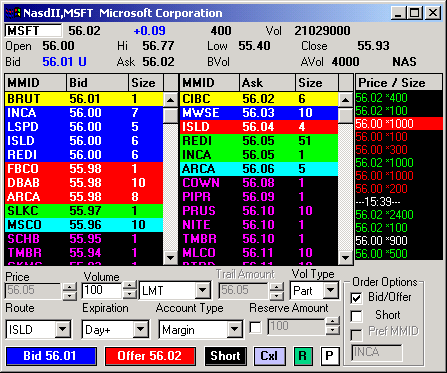 Portfolio management
All account and position data is dynamically updated allowing me to monitor open positions, pending orders and status, profits and buying power — in real-time.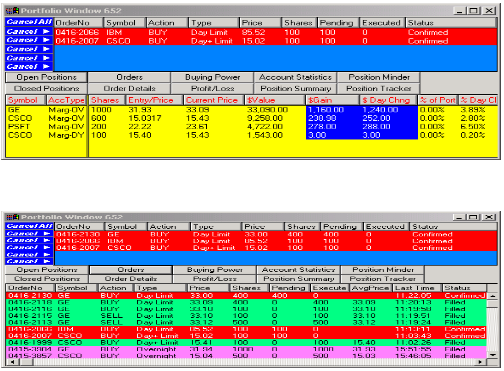 Detailed quote window
This real-time feature allows me to watch an unlimited number of markets symbols dynamically updated throughout the day. The detailed quote window shown below is fully customizable and allows you to choose from over 25 fields of related information on a particular symbol, including bid/ask, volume, change, etc. Like all features on PeakAccess you can customize the quote windows using any particular color scheme, font or configuration.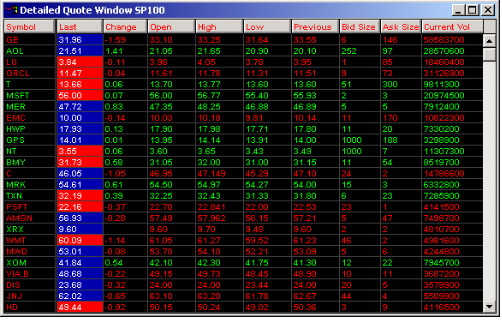 Charts and alerts in this day trading software
PeakAccess offers dynamically updating, real-time intra-day chart data and historical information. You can chart stocks, options, indices or baskets with daily, weekly or any interval of intra-day data. PeakAccess also includes a comprehensive package of technical analysis and charting tools.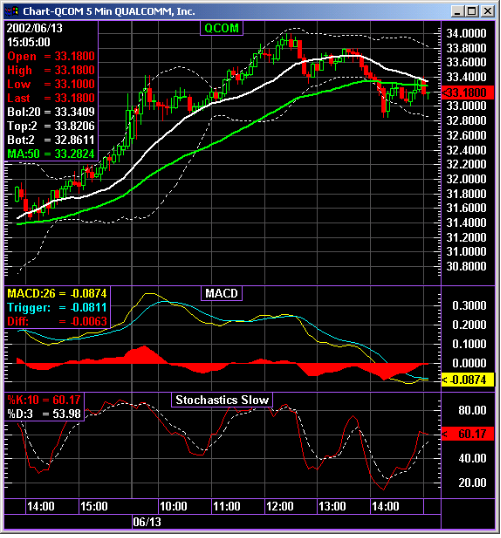 Alerts
Alert are a very useful feature of any good stock markets trading software. Traders can dynamically monitor multiple securities for various price and volume parameters. The Alerts feature visually and audibly notifies traders once a security/instrument they have selected has news, exceeds a volume requirement, passes above/below a price they selected or whether a new high or low has been attained. Traders can enter any number of symbols and enable/disable any combination of Alert options.

Other features of this best day trading software
Baskets
I do not use this feature, but it can be useful to monitor a group of tickers as one symbol.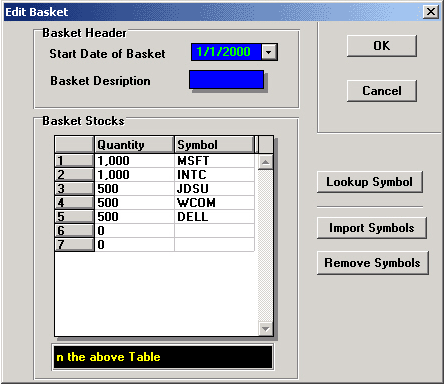 Market Watch and Top Ten List
This stock markets trading software offers tools such as Market Watch and Top Ten List. In one concise real-time window the Top Ten List feature allows traders to see the Most Actives, Largest Point and Percentage Gainers and Largest Point and Percentage Losers on the NASDAQ, NYSE and AMEX. The market watch feature allows you to monitor the major market indices that are used as barometers for U.S. stocks. The real-time and dynamically updating color coding features make following the trends and action for the day that much easier.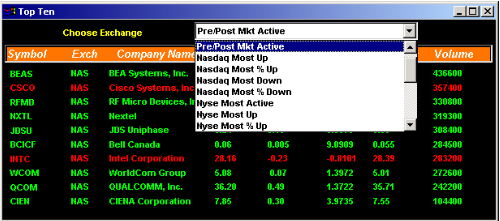 Find more on related pages