Short term traders like you and me use stock market technical analysis techniques and routine very often, almost every day.
Charts of the actual technical stock market situation inform you what action you should prefer during any particular day and whether you should look at what stocks to buy or if you have to concentrate more on how to sell stocks.
Simple technical analysis indicator
I like to use very simple charts for technical analysis. My typical price chart does not use many technical analysis indicators. The best way to see situation is to use simple candlestick charts. They form candlestick  patterns and chart patterns and they help short term traders to understand the situation better and easier.
These simple technical charts also make it easy to recognize two major terms for traders and investors – support and resistance.
Major averages for short-term swing trading
My trades are mostly short-term. I prefer to do swing stock trading and day trading. So I have two different setups for charts in my market analysis software.
When setting my daily chart I use three important moving averages. The longest is the 200-day moving average. This is not heavily used, its main purpose is to signals whether share price is in bull or bear market territory. This long-term technical indicator is simple moving average.
Two short-term moving averages on daily charts that are exponential versions of this technical analysis indicator. I use 20-day and 50-day averages.
Here is a typical daily chart example I use.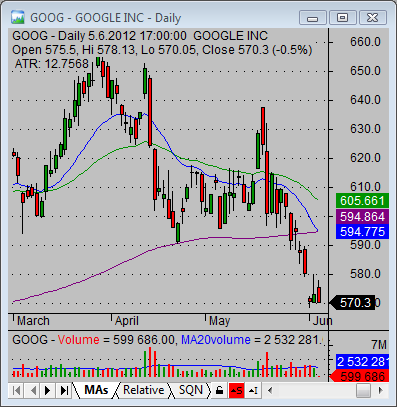 You can use moving averages for different purposes. But it is mostly used as a support or resistance level for swing trades. The second most important reason for using these averages is to be able to easily define actual trading trend and decide what type of trading strategy to prefer in today's market situation.
You can see that I use moving average also on volume. It helps to see the abnormal stock trading volume level right on the chart.
Moving averages as day trading tools
I generally use moving averages in a similar manner for my daytrades. I like to use them as some form of support or resistance levels. But most important is using moving averages for very short-term trend confirmation.
I do not use moving averages on all charts in my day trading platform. I just place them on a longer-term time-frame, i.e. on daily charts and on 240-minute (4-hours) time-frame charts. I use only the 20-period moving average there.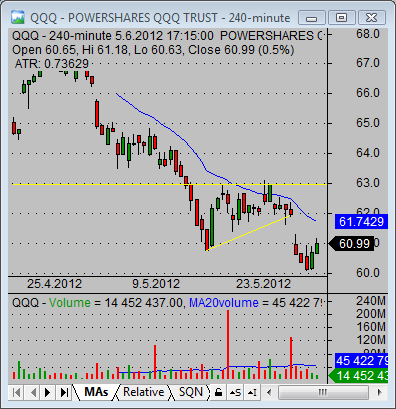 I prefer to use only simple technical charts with a lower time-frame than 4-hours. To see only price action based on candlesticks. It is much easier to day trade on such simple charts for me.
Find more on related pages