A shooting star candlestick is one of candlestick patterns that is very usable for stock traders. This bearish pattern has good profitability for swing traders but also for intraday trading strategies.
Shooting star is basically negative, i.e. bearish candlestick pattern. It is a pattern based on a single candle. It signalizes possible reversal of latest bullish run. The price typically opens higher, then trades much higher and then collapses. Finally price closes near the open.
The closing price could be above or below the opening price. The major idea behind this single candlestick is that the sellers already overpower buyers. It shows that actual price level is already attractive for sellers to sell their shares.
Shooting star candlestick trading in a bull trend
A trader should pay higher attention when he detects this single candlestick on the chart. It signalizes that actual bull run can be near the end and that pullback is coming soon.
Swing traders should use such signal to take profit. Position traders could use this for partial profit taking, wait for a pullback and add into position again on lower levels near some support.
Daytraders should think about this single candlestick pattern as about their signal to close the trade.
Here is a typical example of this bearish candlestick on the daily chart of AMZN ticker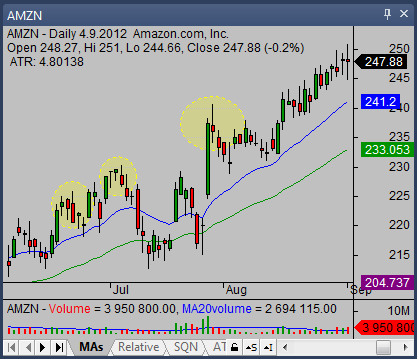 Shooting star candlestick trading in a bear trend
This single candlestick pattern is also very good signal for entering new trade during a downtrend. The bearish type of trade – i.e. short selling – can be initiated quite soon after this candlestick provides its signal.
The entry short-sell order can be initiated when price falls below the low of this candlestick. You can imagine that a shooting star is part of multi day candlestick pattern and that you want to enter the trade during the third day , i.e. the day after the shooting star happens. The name of such three-day pattern is Evening Star.
It is possible to use the highs of this pattern as a stop loss level for a short sell trade.
Some examples of shooting star in bearish trend situation are on the FFIV chart below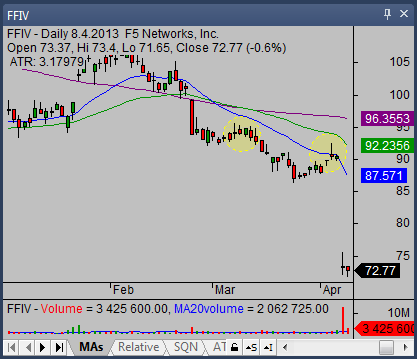 Candlestick trading tips
You can see on the chart above, that situation is not always ideal. Do not expect that every pattern you will see on the chart will be an ideal textbook pattern. You should be very flexible. The best way to improve your trading using shooting star is to spend a lot of time watching the charts and their development.
Find more on related pages