Setting a target for stock trade is the last issue you must do to complete every stock trade setup. I am very surprised how many stock market traders and self directed investors do not prepare their trade in advance using methods that also include setting value that is expected to be reached during trade development.
This value is very important as it helps in two ways. The exact target of any stock trade helps to decide if the trade is worth of picking and realization. The stock market trade where risk is too big in comparison to possible reward is not good trade and should not be realized. This predefined value allows to use risk reward ratio for this decision.
The knowledge of this value is also good stock market trading tool that helps to manage already opened trade. It helps to decide when is good time to trail stop loss level and also when to take profit and close trade. It is good to know when the trade should be closed also in the case when method of trailing stop is preferred method for closing of the trade as is described below.
How to find profit target for stock trade
A target for stock trade can be found by these two techniques:
fixed price value
moving (trailing) stop value
You must also consider the time frame for your trade to know how long the trade can develop before reaching the defined profit value.
Fixed price value targets
This way, you set a profit target for stock trade as fixed price values. These values can be set by these techniques:
The next important level of support or resistance
The previous movement of price
Chart patterns
Retracements
The next important level of support or resistance is a very simple method, and you need only look at the chart to see them.
The previous movement of price value is used especially for pullback trades. You expect that the stock movement will be as strong as the last similar movement before pullback. You can see an example on this chart: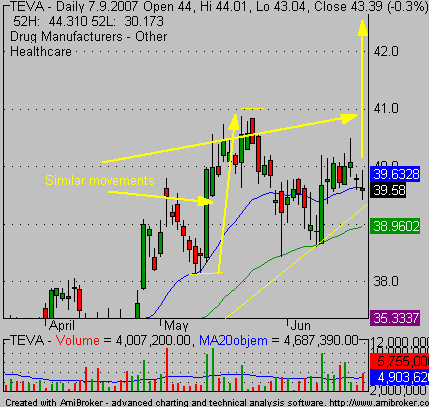 Chart patterns have the expected price movements in their definition. You can use them too.
Combine methods.
It's better to confirm your target by two or more methods.
Retracement values (130%, 150%, 200%) help to set your profit point for trades that expect movement into uncharted territory. When a stock price moves into all-time highs, you can't find an important new level of resistance, but you can use extensions of retracements.
Moving (trailing) stop value targets
In this scenario you need not set a fixed value where you will take profits. You're simply waiting for trade to go through your stop level. This stop level could be a previously defined stop loss level, but as trade develops you'll want to move this level in your favor. That means that after some time when you use the techniques of trade management, your stop value will already be above the entry point. Such a trade will finish as a profit.
A trailing stop value can be set below the last support or above the last resistance in trend move.
Moving averages are also used very often as a moving value of support or resistance. A trailing stop level can be set near them. Here's an example of setting a trailing stop value during a stock uptrend :