When looking for short term stock trading opportunities then it is possible to look for bullish or for bearish picks. Here I would like to describe some technical parameters that are suitable for basic screening for both types of trading opportunities.
When looking for short term stocks trade opportunities it is practical to use technical analysis tools. Fundamental analysis and parameters will not help us to find stocks which could be best performing stocks to the upside or big decliners to the downside in a short-term period of time.
7 free tips to pick stocks for swing trading.          
Find more
Three basic screener filters
When you look for short term stocks to trade in coming few days or weeks than you have to use these basic parameters:
Shares must be liquid to allow me to easily enter and easy exit the trade
A price should be above 15 or 20 USD to have some potential for decline
Shares are traded on the market you like – like US exchanges
These parameters are basics only. They guarantee that our picks will be liquid and manageable during short term trades. Now you have to find something that will select tickers that are suitable for bullish trades and also some bearish stock trading picks.
More rules for screening
When looking for a bullish stock trade I recommend to use simple parameters for this additional filtering. Moving averages are the best and simple technical tool when selecting bullish or bearish trading opportunities. They are also available on most free stock screeners.
The bullish stock picks should trade above the both major moving averages, the 50-day moving average and the 200-day moving average. The opposite is true for bearish stock trade ideas.
You can see examples on these charts. ALNY is a bullish idea and BIDU is a bearish idea.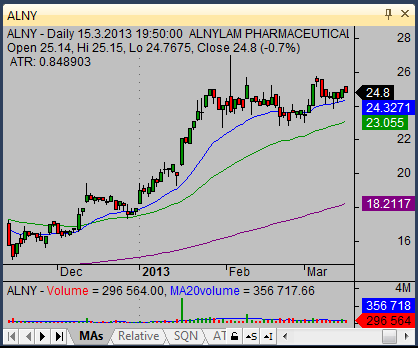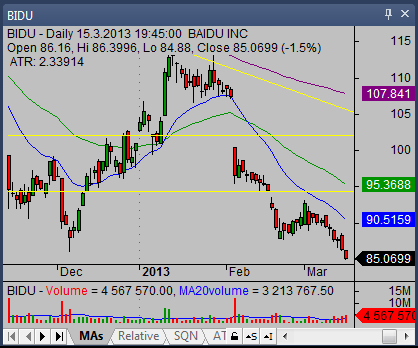 This basic set of parameters selects basic ideas for bullish or bearish stock trade. It is ideal to incorporate additional filters that narrow the list of results.
Find more on related pages