REIT ETF shares are popular vehicles for active traders and investors. These shares make nice short and mid term moves, which can be used by traders and active investors to generates profits.
They can also be used by longer term investors for participation in the performance of real estate markets.
What are Reit ETFs
Real estate investment trusts (REITs) are companies that finance, own and/or operate real estate properties. US Federal legislation, developed in 1960, allowed for the creation of these REIT funds with the goal of providing all investors access to the real estate market – once limited to large institutions.
There are three main groups of these REIT companies:
Equity trusts own and operate real estate properties
Mortgage trusts provide real estate financing by issuing mortgages or acquiring loans and mortgage-backed securities
Hybrid trusts are combinations of two REIT groups above
A company must these have these qualifications to be considered as a real estate investment trust company:
comprise at least 75% of total assets in real estate
derive at least 75% of gross income from real property sources (i.e. rental and property sales) or interest from mortgages on real property
distribute annually at least 90% of ordinary taxable income to shareholders in the form of dividends
REIT Fund shares
The REIT Equity group could be represented by ICF – Cohen & Steers Realty Majors Index Fund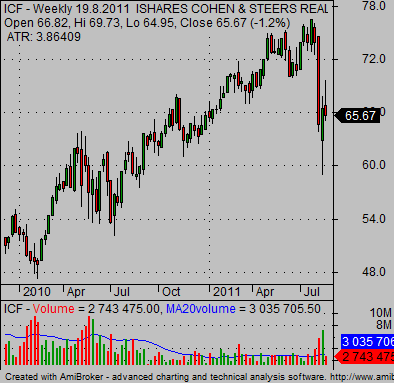 The REIT Hybrid group can be represented by iShares ETF fund IYR – Dow Jones U.S. Real Estate Index Fund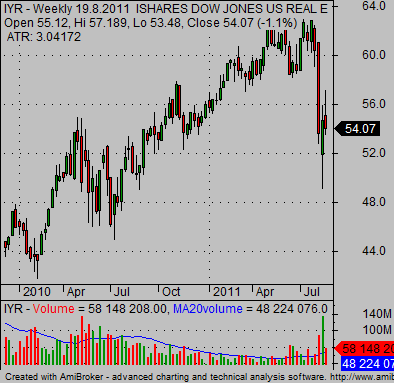 Mortage group is represented by MORT – Market Vectors® Mortgage fund
This is a new fund just created (08/2011) and so there is no history of its shares that can be charted. So I generated a chart of its index using my Bloomberg terminal.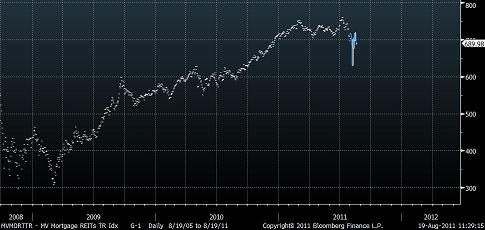 International REIT ishares funds
All funds mentioned above target US real estate market.There are also exchange traded funds issued by the iShares ETF provider targeting other real estate markets. The European region is covered by IFEU iShares REIT ETF fund. Asia is covered by IFAS iShares fund.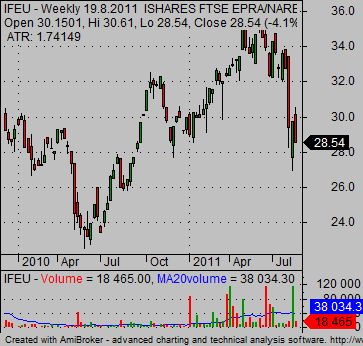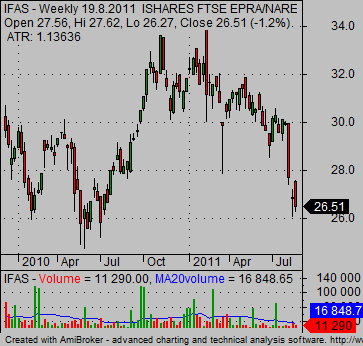 A very specific REIT fund is created to track China Real Estate companies. It is TAO – Guggenheim China Real Estate ETF.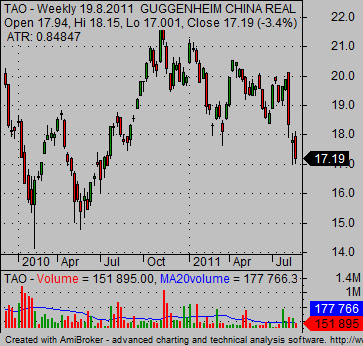 ETF Trading strategies
I use funds mentioned above as short term and mid term trading vehicles for my swing and position trading strategies. I have these shares in my list of ETF and I monitor this list for possible trading opportunities.
My trading strategy is based on relative strength analysis and chart pattern analysis. I prepare my relative strength table which consists list of exchange traded funds with most relative strength and with biggest relative weakness.
Find more on related pages