There are many online trading sites with free stock chart creation availability. But which of them are usable? And are they at all useful ? It is not easy to answer these questions as there are many market websites with different features that are available.
When I started learning how to do technical chart analysis I did not want to spend a lot of money with trading software or other tools. I did not find any free software that I could use for technical analysis training. So I thought it would be fine to start learning with free tools available on the Internet. As I did not do any real trades, it offered me the possibility to learn technical analysis without spending a lot of money from the beginning.
I learned chart analysis using historical charts from sites available back then. My first learning started with Bigcharts.com. Its basic historical charts were my first testing place of my price chart analysis. I set charts on the web site. I printed daily and weekly graphs and started to draw trend lines and try to recognize supports and resistances.
Here is an example of a free stock graph from the bigchart.com site:
Free stock chart software
Later I noticed that the bigcharts site is used for historical chart feature available in free software Quotetracker. As I started to use Quotetracker to monitor my portfolios of virtual trades, I was happy that I could also make my analysis in this software. It allowed me to draw my trendlines directly in the software.
Actually the new version of this software is named MedvedTrader.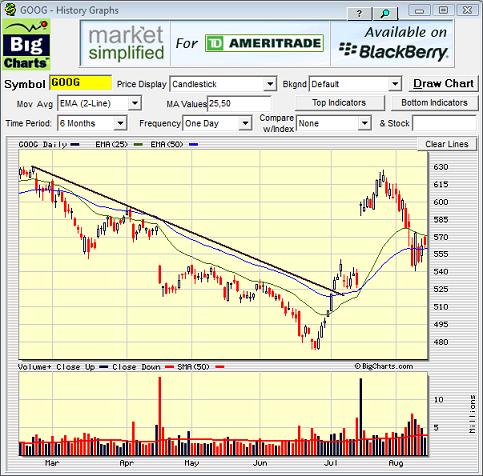 Nice and free technical stock chart analysis
Recently I discovered another site on the Internet. It is FinViz. I like its free market screener feature but I have noticed that this site also publishes its own free share price graphs. I noticed that they have one interesting feature.
They try to draw trendlines and detect support and resistance levels automatically. It is quite nice and it offers another opinion to technical analysis produced by myself. I look at them sometimes to check another (computerized) opinion.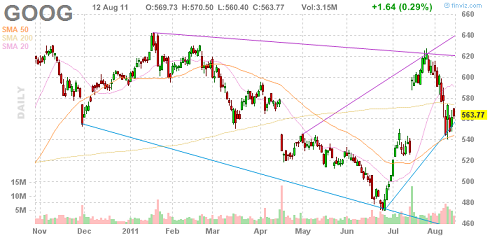 FinViz has also a very nice feature which tries to automatically recognize some chart patterns. You can base some free market screener on such idea.
Find more on related pages