Learn to
select winner stocks

for a new big move before it happens

Profitable stock market trade. It is something that every stock trader wants to do. It is not possible to have all online stock trades profitable. But when most of them finish with profit then it can generate nice monthly and yearly returns.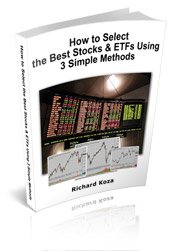 Trading today's market is not so fun as it was in the roaring bull market during the 1980 – 2000 period. It was easy to trade during this strong up-trending move. It was possible to pick almost any stock, buy it immediately or wait for small pullback, and after some time the stock price moved up again.
But the situation has changed after the stock market crash in 2000. When the Nasdaq bubble burst, it changed the behavior of the market action. There are strong uptrend and strong down-trends today, too. And stock picking is a key to making profitable trades.
How to select the Best Stocks and ETFs using 3 Simple Methods is a perfect description of the process that could lead to the best stock trading  opportunities in the current market environment.
Are you searching for good stocks to trade?
My stock trading is based on very selective stock picking and picking of the best exchange traded fund for profitable trade. I have written all aspects of the process of how to pick stocks and ETFs and find the best trading opportunities in any market and I put it all into this eBook.
This eBook covers all steps of the procedure that I follow when I am looking for the best stock picks or most interesting ETFs. I do these steps every week.
Find sectors that are now in focus of
"smart money"
The key role in the selection of stocks or ETFs for stock market trade is played by relative strength analysis. The relative strength shows you what a "smart money" aka big professional investors do. It pays to join them, as they are able to push the price of a stock or ETF in your direction and generate profit for you.
This eBook describes how I think when I look at stock charts and what key parameters help me to define whether there is strength or weakness there.
Avoid losing money

in trades that don't perform. Select strongest sectors in current stock market

You can generate a table of best performing and worst performing sectors using simple steps. This table with strongest sectors shows you the best opportunities for ETF trades or defines in what sector you should look for the most bullish stock picks. The example of bullish sectors table can be seen below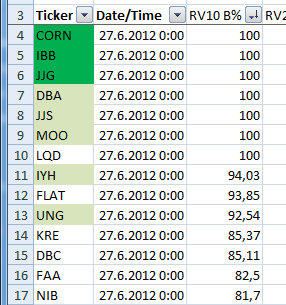 Determine what stocks should be on your watch list and what to disregard
The simple table that you will have in Excel or a similar spreadsheet will show you the weakest part of the market. You will know what sectors and what stocks to avoid for bullish stock market trade strategies.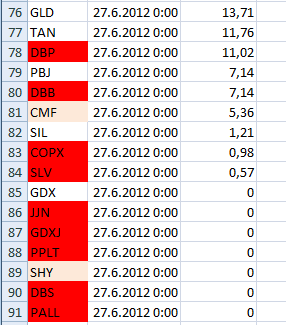 Find stocks and sectors for short sell trades
and
make profits in declining markets
The methods described in the eBook will allow you to decide whether short sell strategies will offer more compelling opportunities. A table like the one above will show you the best stocks and sectors for this type of bearish stock market strategy. It will allow you to make profitable trades in a bear market environment as well.
All necessary how-to is in this ebook
All features of this process can be done using free online resources like free stock screeners or online charting sites. It is also possible to use it with almost any stock analysis software. I personally use AmiBroker as my stock analysis software but it is not necessary to use it to achieve expected results.
The content of this eBook covers all major issues related to my stock picking for best stock market trade:
What are major parameters of best stock picks
How to use these parameters in free stock screeners
How to decide what stock from screened list is best for trading
How to find best ETF using stock screener
How to use chart analysis method to find most compelling exchange traded fund for bullish and bearish trade
Complete process of my ETF chart analysis
How to define stock trading situation and mood
and more
I have put a lot of chart examples into this book to demonstrate which are the best charts and which are not compelling charts for best stock market trades.
The price of this eBook is 67 USD only.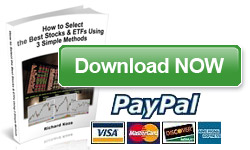 What other readers of this ebook say
Wanted to thank you on your excellent book on stock scanning. Finally managed to go through it. It is so clear and like you say simple to comprehend without needless clutter. Has helped greatly in creating my own scans in Telechart. The ETF section was also an eye opener for me.

Thanks again,
I like it, it demonstrates that trading is not necessarily a complicated task
I liked the book.  What I liked most is how you were not trying to sell a method that was better than the rest, or some other crap like that.  I like how you are methodical about your methods, and seemingly without emotion.  The most useful information was just the methods in which you approached the market.  Anybody can do the same analysis you describe.  I do not think it has to be any harder than you make it.
I did like the e-book. I found the ETF section especially to be a clever and useful way to analyze and identify ETF trading candidates.
Are you ready to find the best stock pick
for your next profitable stock market trade?
The price of this eBook is 67 USD only.
READY ? DO NOT WAIT ! BUY NOW !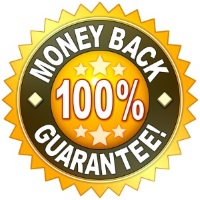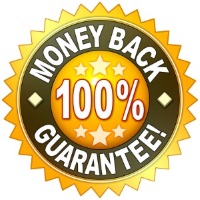 The eBook version comes with a No-Questions-Asked Guarantee:
If you're not satisfied with this eBook, just email me within 2 weeks of your date of purchase – and I'll issue your 100% refund immediately.
Your eBook purchase is 100% safe and secure – and 100% risk-free.
This eBook is in the Adobe PDF file format. If your computer doesn't have the Adobe Reader software, you can easily install it for free.