There are several day trading lessons of day trading for beginners. These lessons should be taken and understood before any real intraday trading activities. When these key points are not understood or are used incorrectly then they often lead to day trading mistakes.
Any beginner who wants to trade intra-day must understand that trading is not a hobby. It must be treated like a business and a business plan has to exist. Another important issue for beginners is to create a suitable system with one or more intraday strategies. Why more? The stock market is not always in the same situation.
It is important for intraday traders (especially beginners) to have separate daytrading rules for bullish days when the stock market is in a bullish mood and for days when the market is in a bearish mood or days when the stock market is in some range without any significant trend.
Gap daytrading lessons for beginners
There are also days when stock markets open with a gap. Any introduction to day trading for beginners should point to that.
Here are chart examples of a few gaps that occurred in US stock market indexes.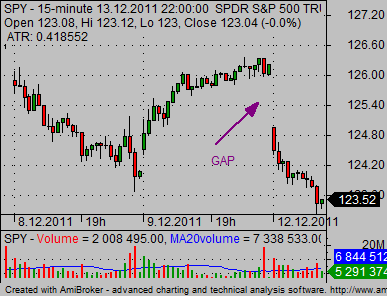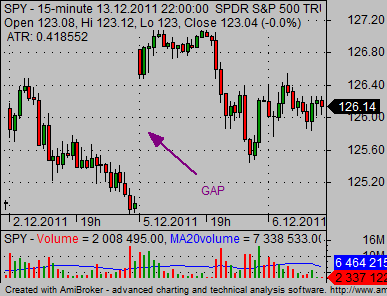 These gaps could be used as an opportunity for a profitable trade. But there are daytraders that do not trade gaps and avoid trading when gap occurs.
So these daytrading gap lessons for beginners tell us that it is necessary to be prepared to use different intraday strategies every day.
The second important point for beginners is that it is also possible to avoid daytrading on any particular day. It is possible to stay away during a day that is not ideal for a strategy that a trader uses. Overtrading and pushing into trading when conditions are not optimal are big daytrading mistakes of many beginners.
Next three daytrading lessons for beginners
The first key point for a daytrading system and strategy is to stick with a simple methodology of support and resistance. These two values are the most important technical analysis tools that should be used in daytrades.
Check this chart of support and resistance established on SPY – index ETF – intraday. A daytrader should be patient and wait for an attempt to break up or break down of this range.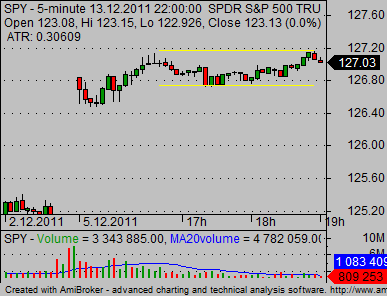 As this range is defined, it can be easily used for setting of the best entry point and stop loss level. Intraday chart analysis also helps to check possible targets for such trade. These three values provide calculation of risk reward that should be 2:1 as a minimum for any daytrading system. A risk reward ratio above 3:1 is much better. This is the second key point.
And there is a third lesson of day trading for beginners. Be patient and wait for a break of this important level. Then enter e thtrade accordingly with the trade setup you have already prepared. Set the trade size according to your money management rules.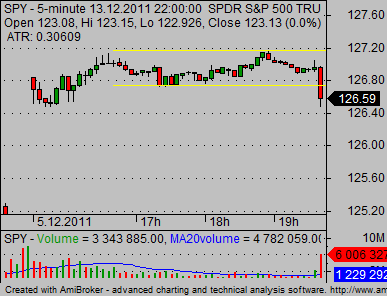 The breakdown of trading range can be seen on this intraday chart above. The breakdown was accompanied with above average volume, which is a good sign for further trade development.
And the final chart presents situation after the trade developed. It was possible to make quite a nice gain in this SPY
short sell daytrade. The arrow shows a point of possible exit when trailing stop loss technique was used.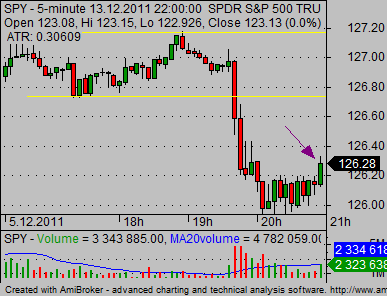 Find more on related pages about day trading for beginners