The iShares Nasdaq biotechnology index fund with symbol IBB is one of the most popular exchange traded funds that tracks biotechnology stocks. This exchange traded fund tracks the Nasdaq biotech index.
The most important biotechnology stocks in the portfolio of this ETF  are companies like Regeneron Pharmaceuticals, Inc. (REGN), Gilead Sciences, Inc. (GILD), Amgen Inc. (AMGN), Celgene Corporation (CELG), Alexion Pharmaceuticals, Inc. (ALXN) and Biogen Idec Inc. (BIIB).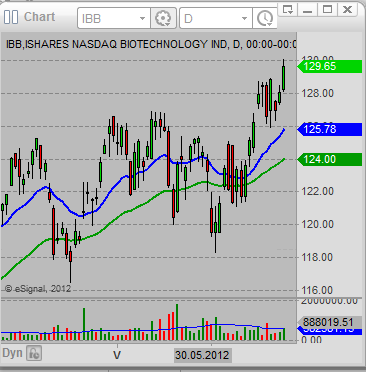 How to trade biotech ETF
My preferred strategy for analysis and trading of any exchange traded fund is based on relative strength analysis My personal ETF picking method that I use for ETF research use relative strength analysis as the main way to analyze sector based exchange traded funds.
The two-step process is used by this type of exchange traded fund picking and trading strategy. The first step is general stock market situation assessment using some broad stock market index fund or index, like the Nasdaq 100 or S&P500.

The second step is a relative strength comparison of selected biotechnology index fund with stock market index chart. This analysis should provide an answer to question of whether to use a bullish or bearish stock trading strategy and if the biotechnology sector ETF is suitable for this type of strategy.
Based on the charts above you can see that the general situation can be defined as neutral, so both types of strategies can be used. Analysis of any chart for any biotechnology index fund above should lead to the conclusion that this fund is a good opportunity for a bullish type of stock market trade.
More biotechnology funds
There are also other biotechnology based exchange traded funds. I personally prefer to trade IBB or XBI, but you can make your own choice. And as I mentioned there are also other biotech exchange traded funds like First Trust Amex Biotechnology ETF with symbol FBT or PowerShares Dynamic Biotechnology & Genome Portfolio ETF with symbol PBE.
Find more on related pages