International stock trading can be managed by using international ETFs listed on the U.S. stock exchanges.
Yes, it is also an option to trade stocks directly on international stocks exchanges. The best stock brokers offer possibility to trade 24 hours a day. But I personally prefer US exchanges as they offer best liquidity, best products list and also best protection for traders and investors.
Asia group etfs definition
I use ETFs for my ETF trading system for swing trades and position trades. I divide them into categories based on region.
This group contains international exchange traded funds that cover regional markets in Asia Pacific region. There are standard exchange traded fund shares and also inverse or short exchange traded fund shares available in this group.
FXI
FTSE/Xinhua China 25 Index Fund
GXC
STREETTRACKS China
EWA
ISHARES Australia
EWH
ISHARES Hong Kong
EWJ
ISHARES Japan
EWM
IShares MSCI Malaysia
EWS
ISHARES Singapore
EWY
ISHARES Korea
EWT
ISHARES Taiwan
FXP
Ultra SHORT CHINA

!! INVERSE SHORT ETF !!

INP
INDIA – IPATH MSCI
When I do analysis of stock market situation I use principles of relative strength. I compare individual international etfs with major international index market symbol. For most Asian markets it is emerging markets exchange traded fund with symbol EEM.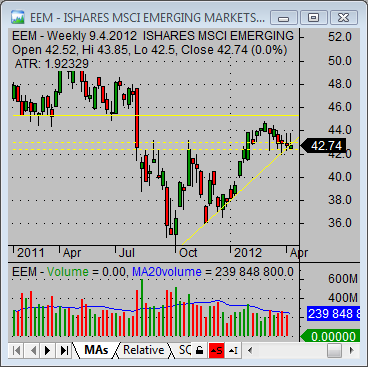 Europe group etfs definition
This group covers most of European regional markets. When I perform my method for picking of best etfs for trading I always compare these funds to general US market index like SP500 index.
| | |
| --- | --- |
| EWO | I-SHARES Austria |
| EWQ | I-SHARES France |
| EWG | I-SHARES Germany |
| EWP | I-SHARES Spain |
| EWL | I-SHARES Switzerland |
| EWU | I-SHARES United Kingdom |
| GUR | SPDR Emerging Europe |
| EZU | I-SHARES Eurozone EMU |
| FEZ | STREETTRACKS EURO STOXX 50 ETF |
Americas group ETFs definition
| | |
| --- | --- |
| EWZ | IShares MSCI Brazil Index Fund |
| EWC | ISHARES Canada |
| GML | SPDR LATIN AMERICA ETF |
I analyze Latin America etfs securities using relative strength analysis too. The base index for these international exchange traded fund shares are again EEM – global emerging market exchange traded fund.
There are also several others ETFs covering the same regions as listed above. These are my sampling. Most of them are issued by Ishares, but you can find some other ETFs that you may prefer, e.g., there are more China ETFs.
Find more on related pages