International ETF shares tracking major developing countries, better known as emerging markets, are popular and are easily available for international trading and investing. You can use them for short-term but also for mid and long-term trading or investing strategies based on international exchange traded funds
Brazil ETFs shares and BRIC ETF options
Latin America could be covered by these main international emerging markets etf shares:
EWZ .. Ishares Brazil
EWW .. Ishares Mexico
GML .. Latin America SPDR fund
EPU .. Ishares Peru
ECH .. Ishares Chile
BRF .. Market Vector Small cap
BZF .. WisdomTree Brazil Real currency fund
It is possible to use exchange traded funds to trade stock markets of the above mentioned countries but also to invest directly into some of their currencies, as is possible for Brazil.
Also, the performance of these stocks often correlates with the performance of commodity fund shares, especially in the case of Chile.  Brazil has a much more diversified economy.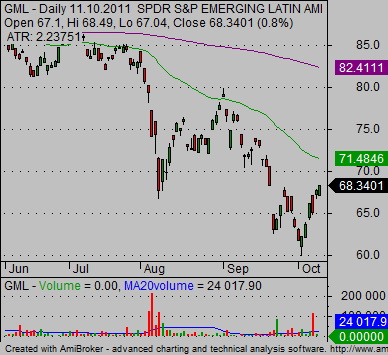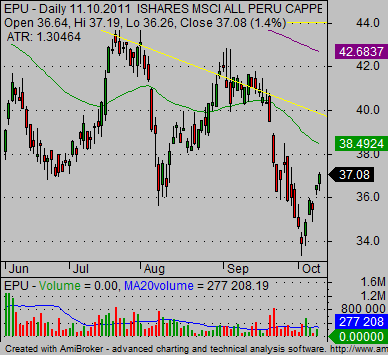 Africa, Eastern Europe and Russia ETFs
Emerging Europe or Africa are also very popular regions for international etf investing.
AFK .. Market Vectors Africa fund
EGPT .. Market Vectors Egypt fund
EZA .. South Africa index fund
EPOL .. Ishares Poland
RSX .. Russia exchange traded fund
Russia fund shares are often used for investment strategies combined with oil ETF strategies. Russian shares tend to perform well when the price of oil is high.
Poland's fund is quite popular, as it represents the biggest country in Central and Eastern Europe with a good economic outlook.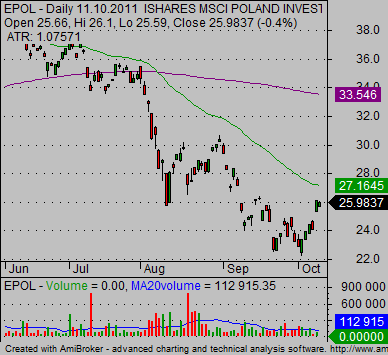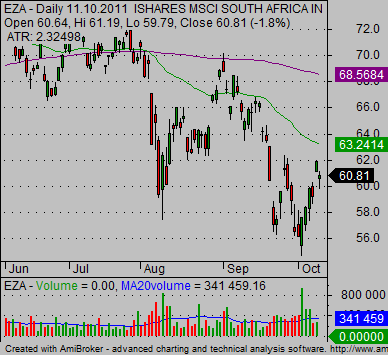 Asian stock markets
There are plenty of Asian stock market ETFs available. Here is a current list I personally monitor for my ETF trading strategies.
FXI .. FTSE/Xinhua China 25 Index Fund
GXC .. STREETTRACKS China
EWA .. ISHARES Australia
EWH .. ISHARES Hong Kong
EWJ .. ISHARES Japan
EWM .. IShares MSCI Malaysia
EWS .. ISHARES Singapore
EWY .. ISHARES Korea
EWT .. ISHARES Taiwan
PIN .. Powershares India
IDX .. Market Vectors Indonesia
THD .. Ishares Thailand
IDX .. Market Vectors Vietnam
EPHE .. Ishares Philippines
Here are examples of popular international funds tracking Indonesia, Philippines and India.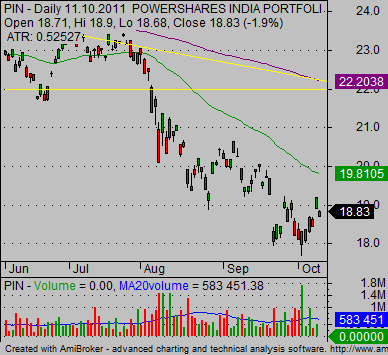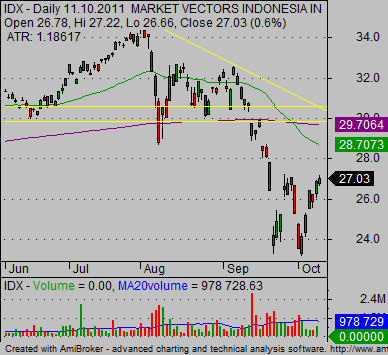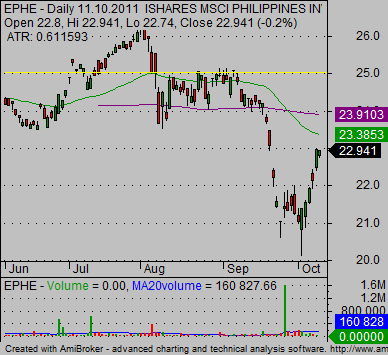 There are more international funds for trading of India than mentioned above. Asian currencies offer also nice opportunities for ETF traders and also for international investing.
Find more on related pages