The next step in the process of creation the best etf gold trade is to understand broad situation. Even you want to trade only gold etf funds it is good to know whether the commodity prices are rising or declining generally.
It is important to do it regardless of you hear in TV or read in popular newspapers and magazines. These articles cover situation only shallowly. But what really matters is how the value of the commodity index is moving on the chart. There could be bullish public mood but price has already reversed and has been moving in strong downtrend move. And when everyone has been panicking about a big sell-off in commodities then it could be a good time to think about buying commodity exchange traded funds.
Check global commodity situation
The global investor's mood for commodities could be checked on the chart of global commodity ETF with symbol DBC. Here you can see a sample chart.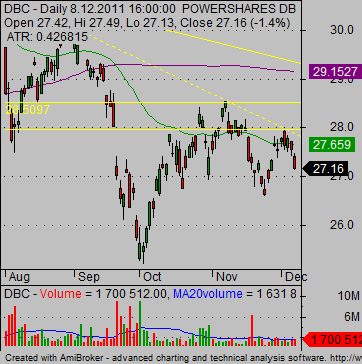 As you can see, the current situation is quite bearish and investors are not rushing to buy commodities right now.
This is important point as it indicates that it is not general bullish opinion about investing into commodities. So the price of gold can't expect any support from broad price movement in the global commodity area.
Check chart of your preferred gold exchange traded fund
This is the next important step. It is also important to see if the gold fund shows relative strength or relative weakness to general commodity market mood. I prefer to buy exchange traded funds that present the best relative strength and sell short weakest ETFs.
I like to use GLD ETF for gold trading. Here you can check the actual chart of GLD ETF.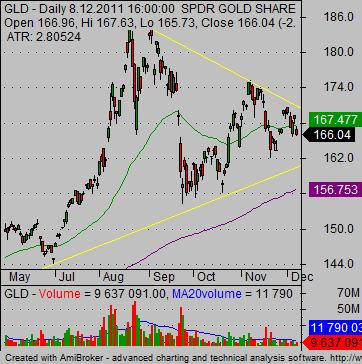 As you can see, GLD ETF presents a better picture than commodities generally. We can say that there is real relative strength in this exchange traded fund.
There is a flag stock chart pattern on the chart of gld etf. Although the best trading strategy is to wait for breakout from this pattern it is also possible to use the 50-day moving average as a support level and buy any pullback and bounce from this moving average.
Find more on related pages