How to trade Nasdaq stock? Quotes and charts of this market ticker can be found on many websites, so it is easy to check Nasdaq stock quotes. But the question is how to use these free live quotes or historical quotes for NDAQ to make profitable trading decisions.
Basics for technical analysis of stocks
A chart analysis is very important for any trading or investment strategy decision. The chart analysis should provide you very important info that should be used for selection of the proper way how to act.
The Nasdaq stock quotes chart can be analyzed on some websites that provide free charts, like FinViz or Yahoo. FinViz charts are quite good especially if you subscribe to the paid options, but they still have some limitation. The best feature is the automatic drawing of trendlines.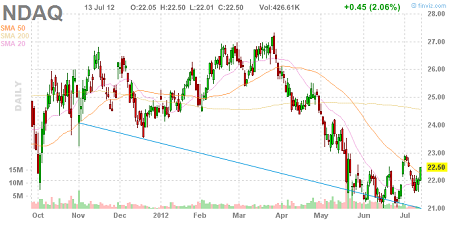 The better option is to use good software for chart analysis, as it allows you to customize your charts of NDAQ ticker. The most important is to setup a price chart layout that allows you to analyze not only daily time-frame but also the Nasdaq shares history charts with weekly and monthly time frames.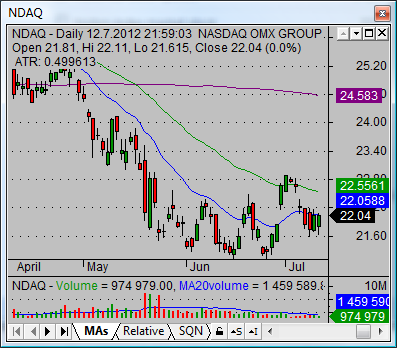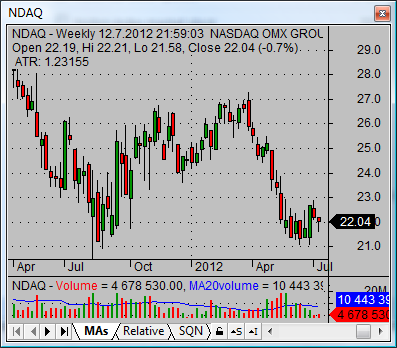 What to take from chart history of NDAQ share ticker
There is some know how that must be taken from analysis of NDAQ technical price chart.
What is the actual situation
Is the stock in some trend? You can see a bullish trend or bearish trend. But stocks typically spend less time in trend and more time in some form of consoslidation so you can find that the actual situation on NDAQ – Nasdaq shares chart is quite neutral, too.
What are major levels of support and resistance
This info can be especially seen on weekly charts or monthly time-frames, as they provide a broader view. These major levels are seen in broader historical overview.
This info should help you with timing of your entries and decisions about possible targets. This info should also help you to choose a direction for your trade and what type of trading or investing strategy to select for Nasdaq company's shares.
Technical stock trading strategy for Nasdaq shares
It is possible to use NDAQ Nasdaq quotes and charts for technical trading strategies. You can simply use candlestick chart analysis combined with trend analysis and chart patterns to trade Nasdaq stock quotes and charts. The typical example of possible trades you can find on the chart below: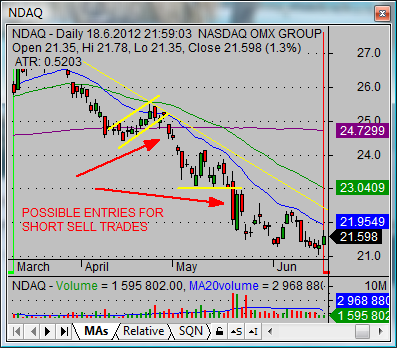 I like to use the concept of relative strength and weakness. This can be used also for trading the NDAQ – Nasdaq company shares. Quotes presented on chart of NDAQ present nice relative weakness to its sector – financials. As you can see on the chart below, the situation in the financial sector is much better than that of NDAQ. It confirms selection of short sell strategy and so short selling of NDAQ – Nasdaq shares was good trading opportunity.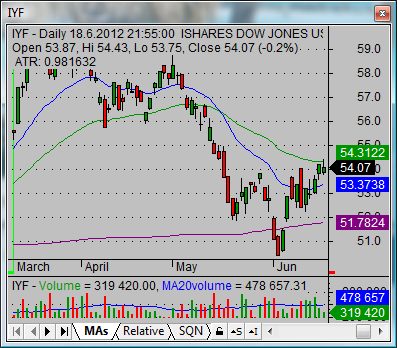 Well you can also use some fundamental background for this investing pick. The Nasdaq is a major US company and also has international operations. It generates revenues mostly from trading volume that is done on the Nasdaq equity exchange in the US and other exchanges the company owns in other parts of the world. But generally for short-term trading strategies is fundamental background less usable than for mid term stock market investment strategies that hold position for several months.
Find more on related pages