There are currency ETF shares available for trading. These currency ETFs copy the foreign exchange rate of specified currency to USD (U.S. dollars).That means that it's easy to trade some currencies using ETF shares. These funds could also serve as instruments for hedging investments in currency different from USD.
| | |
| --- | --- |
| FXA | CurrencyShares Australian Dollar Trust |
| FXB | CurrencyShares British Pound Sterling Trust |
| FXC | CurrencyShares Canadian Dollar Trust |
| FXE | CurrencyShares Euro Trust |
| FXY | CurrencyShares Japanese Yen Trust |
| FXM | CurrencyShares Mexican Peso Trust |
| FXS | CurrencyShares Swedish Krona Trust |
| FXF | CurrencyShares Swiss Franc Trust |
Exchange traded funds also provide a yield based on overnight interest rates in the country of the currency it holds. This income can be used to offset fees.
For example, the interest rate for the Australian Dollar ETF is 5.95% and 0.24% for the Japanese Yen ETF. The yield can vary over time based on interest-rate movements.
Emerging markets currencyshares for online currency market strategies
Developing of exchange traded funds tracking currencies continue and there are emerging market exchange traded funds tracking EM currencies available today. Asian currencies are one popular group.
Other available options offer these funds:
SZR – WisdomTree Dreyfus South African Rand ETF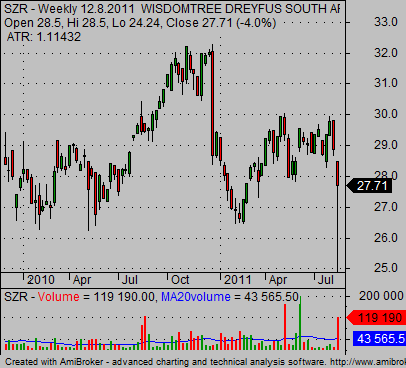 Mexican peso I mentioned already in table above, but I want to post chart of this emerging market fund.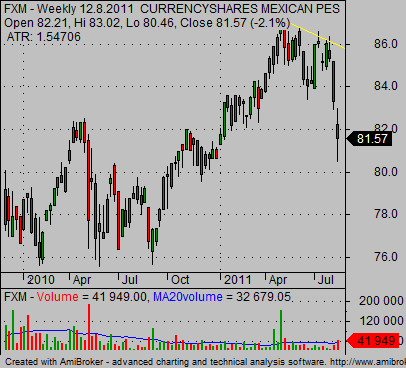 Risk associated with currency foreign online trading
There is risk associated with currency funds.
Most popular currencies like EUR, GBP, JPY are traded 24 hours a day. They often make big move in Asian trading hours or London Trading hours.
But these funds are traded on US stock exchange during US stock exchange opening hours. It means that they often make huge gaps on their charts. It means that it can be hard to enter or exit position in specific price. Check this daily chart of FXB, tracking GBP – British pound.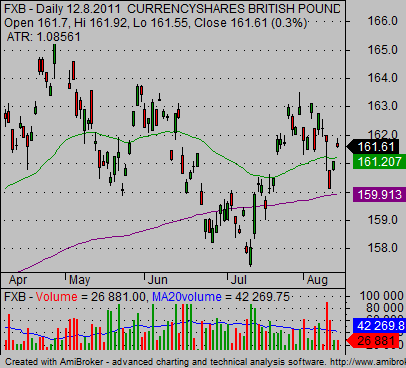 As you can see there are a lot of gaps in the charts as price moved during trading sessions in Europe or Asia. So I recommend to use these funds only for mid term position trades only.
Find more on related pages