China stock market index is one of the most watched stock market indexes in the world. The Chinese economy has proven to be a huge economic machine that generates a lot of growth in this Asian country.
Most developed countries have lost a lot of jobs in previous decades that have been replaced by workers in Asian factories working for a salary that is only fractional compared to the salary of workers in the USA or in Europe.
The Chinese economy is heavily managed by government and so its development is not only positive. There is talk about overheating periods during this development. The Chinese government controls undervalued currency that is fixed to USD. This currency exchange management means plenty of money printing in local Chinese currency, which leads to huge inflation in China.
Chinese citizens have also limited availability as to how to invest their money, and the Chinese stock market is one of few possibilities together with real estate and gold.
How to invest in china's stock market
China's stock market is not open for international private investors. This is a local stock market with only a few possibilities for institutional investors. China is a regulated economy and communist leaders are trying to manage everything. This economy is also heavily protected and benefits from this protection a lot.
So one has to monitor the China stock market index with this knowledge in the mind, as performance of stocks in the local Chinese stock market is not based only on performance of individual companies. Its performance is also based on factors like limits of possible investment opportunities for Chinese citizens and also with management of local currency liquidity by the Chinese government.
But the Chinese economy is important for world economic development these days quite a lot so I regularly monitor China stock market index together with other indications of Chinese economic performance. My global macro fundamental research also includes articles about this big Asian economy.
Charts of china stock market index
I personally monitor this China stock market index – The Shanghai A-Share Stock Price Index. I do it during my regular stock market analysis routine.
This index is a capitalization-weighted index. The index tracks the daily price performance of all A-shares listed on the Shanghai Stock Exchange that are restricted to local investors and qualified institutional foreign investors. The Base Value is 100. The index was launched on February 21, 1992.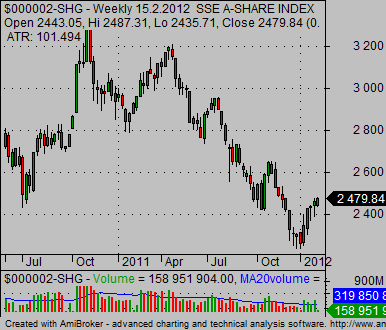 Using china ETF to trade chinese stock market
A good option to trade and invest in the Chinese stock market is to use exchange traded funds issued in USA and traded on US stock exchanges. These China ETF shares track different groups of Chinese companies. I personally have these China ETF shares in my list of ETFs I regularly monitor, analyze and trade.
The first one is iShares FTSE China 25 Index Fund (FXI) provided by iShares exchange traded funds provider. This fund tracks 25 of the largest and most liquid Chinese stocks (Red Chips and H shares) listed and traded on the Stock Exchange of Hong Kong (SEHK).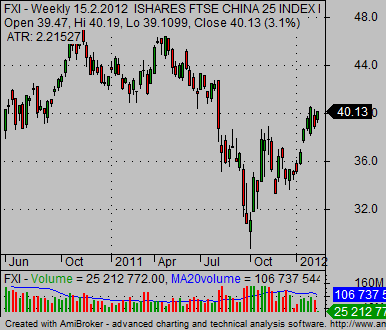 The biggest members of this index are companies like CHINA MOBILE LTD with 9.44%, CHINA CONSTRUCTION BANK-H with 9.13%,IND & COMM BK OF CHINA-H with 8.16%,CNOOC LTD with 7.64%, BANK OF CHINA LTD-H with 6.19% and PETROCHINA CO LTD-H with 4.44%
Another important China ETF I regularly monitor is SPDR S&P China ETF with ticker symbol GXC. This ETF tracks the S&P® China BMI Index. This index is a market capitalization weighted index that defines and measures the investable universe of publicly traded companies domiciled in China, but legally available to foreign investors.
This index represents a better view of China's stock market as it holds much more companies in its portfolio, over 150.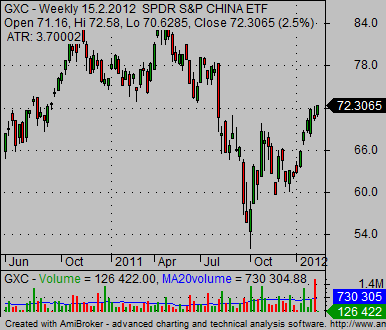 Short China ETF
The Chinese stock market is not only rising but there are also times of decline, as is visible on chart above. There are inverse, or short China ETF shares, which can be used by investors or traders in this case instead of standard short selling. I would like to recommend caution when using inverse or leveraged exchange traded fund shares as they are much more risky than standard non leveraged exchange traded funds.
The most popular is probably UltraShort FTSE China 25 with symbol FXP. This short ProShares ETF seeks a return that is -2x the return of an index or other benchmark (target) for a single day, as measured from one NAV calculation to the next.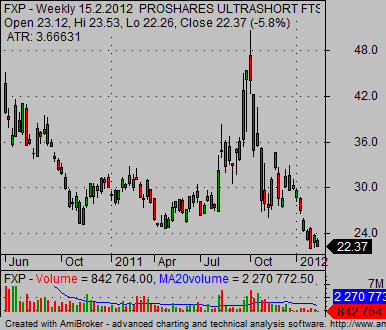 There are also specific sector based Chinese exchange traded funds on US stock exchanges. They can be used for trading too, although they are more focused on individual sectors of the Chinese economy. But it can be better then broad china stock market index funds mentioned above as biggest companies in these funds are Chinese state owned companies.
Find more on related pages