Copper stocks are often mentioned in association with commodity online trading. It is described as a common movement of both copper prices and copper stocks. But these stocks are also a specific group that can be traded without connection to commodity online trading.
The copper mining stocks sector is one sub-sector that could be tracked and traded with technical stock market strategies based on relative strength and weakness analysis.
I regularly have some of these miners stocks and ETF securities in my watch lists for possible long or short sell trading strategies I use for swing and position trading.
Major copper stocks on US stock markets
There is quite a simple way to find major copper stocks of miners of this base metal traded on US stock exchanges. It is free stock screener feature available on FinViz site. We use a screener with only one parameter and it is Industry description set to "Copper". You can see the definition of this step in this image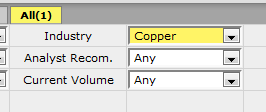 We receive a list of copper stocks that are involved in mining of this base metal and are traded on US stock exchanges. As you can see, there are four major companies.


The biggest market cap has FCX , Freeport-McMoRan Copper & Gold Inc. This is a big company that engages in the exploration, mining, and production of mineral resources. The company primarily explores for copper, gold, molybdenum, silver, and cobalt. It holds interests in various properties, located in North and South America; the Grasberg minerals district in Indonesia; and the Tenke Fungurume minerals district in the Democratic Republic of Congo.
Its shares also have very good liquidity and can be easily traded. Here is a sample chart of FCX.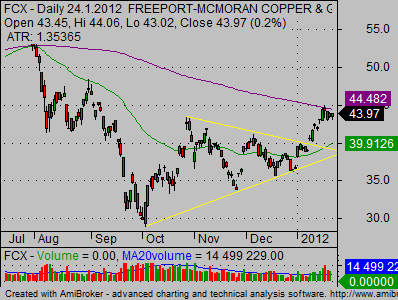 The second biggest by market cap is Indian company Sterlite Industries (India) Ltd. with stocks ticker symbol SLT. This company operates as a non-ferrous metals and mining company in India and internationally. It engages in the smelting and processing of copper and production of copper byproducts.
The company's primary products consist of copper cathode and continuous cast rods, as well as by products comprising sulphuric acid, phosphoric acid, hydrofluoro silicic acid, gypsum, ferro sand, and slime. In addition, the company produces aluminum from its bauxite mines. Its aluminum products include aluminum ingots and wire rods; rolled products, such as coils and sheets; and vanadium sludge as a by-product. Further, the company smelts and produces lead and zinc, as well as produces and sells sulphuric acid to fertilizer manufacturers and other industries; and silver ingots primarily to industrial users.
Additionally, it is involved in power generations business. As of March 31, 2011, the company had a power generation capacity of 1,041 MW from its thermal power plants and wind power plants. The chart of SLT's stock price is here: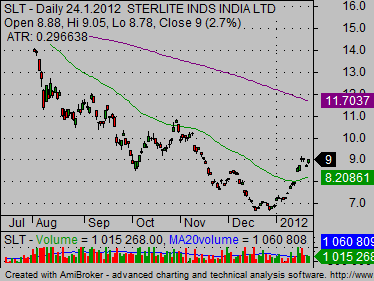 The third result in the list is Southern Copper Corp. with ticker symbol SCCO. Southern Copper Corporation engages in mining, exploring, smelting, and refining copper ores in Peru, Mexico, and Chile. It involves in the production of copper and molybdenum concentrates; smelting of these concentrates to produce anode copper; and refining of it to produce copper cathodes, as well as refined silver and copper.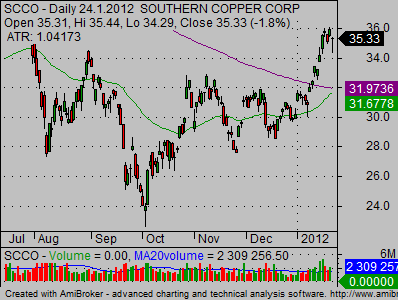 Finally, the last option in the list of results is LIWA – Lihua International, Inc. This Chinese company engages in the production of copper replacement cable and wire products in the People's Republic of China. It develops, designs, manufactures, markets, and distributes refined copper products, including copper anode, pure copper rod, pure copper wire, and copper-clad aluminum superfine wire.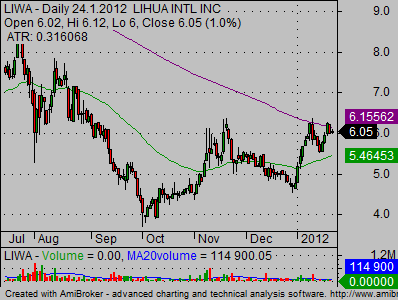 Copper etf securities tracking miners companies for sector etf trading
There are two major miner exchange traded funds. These exchange traded funds offer more diversified access to this mining industry. Both of them hold in portfolio many stocks from different parts of the world. These stocks represent companies that are involved in metal mining business all around the world.
The first one is CU – First Trust ISE Global Copper Index Fund. This fund is designed to provide a benchmark for investors interested in tracking public companies that are active in the copper mining industry based on analysis of revenue derived from the sale of copper.
Issuers of component securities of the index must be actively engaged in some aspect of the copper mining industry, such as copper mining, refining or exploration. Each component security must have a market capitalization of at least $75 million.
Biggest holdings of this funds are companies like Rio Tinto Plc (ADR) , First Quantum Minerals Ltd., Southern Copper Corporation, Antofagasta Plc, Freeport-McMoRan Copper & Gold, Inc. (Class B), Xstrata Plc, Kazakhmys Plc, MMC Norilsk Nickel JSC, Ivanhoe Mines Ltd. and KGHM Polska Miedz SA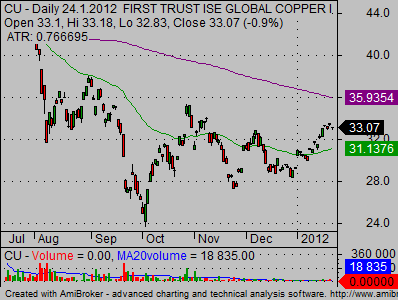 The second option is Global X Copper Miners ETF with symbol COPX. This exchange traded fund is designed to reflect the performance of the copper mining industry. It is comprised of selected companies globally that are actively engaged in some aspect of the copper mining industry, such as copper mining, refining, or exploration.
Biggest holdings in its portfolio are the companies QUADRA FNX MINING LTD, LUNDIN MINING CORP., SOUTHERN COPPER CORP, KAZAKHMYS, ANTOFAGASTA PLC, GRUPO MEXICO SAB DE CV-B,FREEPORT COPPR, INMET MINING CORPORATION and FIRST QUANTUM MINERALS LT.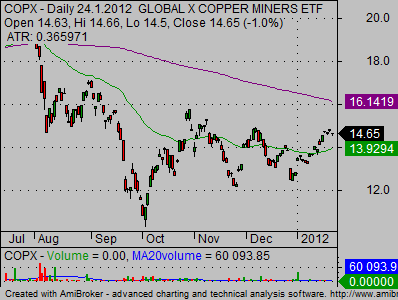 Find more on related pages