The Nasdaq 100 index is one of the most popular stock market indexes that tracks some part of US stock exchanges. This index includes 100 major domestic and international non-financial companies listed on The NASDAQ Stock Market based on market capitalization. All major industry groups are included into this index, including computer hardware and software, telecommunications, retail/wholesale trade and biotechnology.
Technology and communications have the most weight in this index – almost 80% combined together. The shares with the most weight in this index are Apple Inc. with 18.5%, Microsoft Corp with 8.99% and Google with 5.50% as of today (06/2012). The movement of share prices of these three major companies leads the movement in the Nasdaq 100 Index a lot.
How to monitor and analyze NASDAQ index
There are two basic options to monitor and analyze the development of the Nasdaq 100 index. The first option is to use some end-of-day data or real-time data provider together with good stock chart analysis software. The chart produced by such software looks like this one that is provided by
Amibroker, the stock analysis software I use personally, and Yahoo free end-of-day data.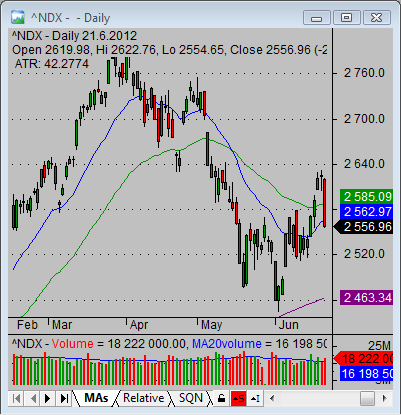 Another option is to use some online trading websites that provide free stock market quotes for this index too. It is possible to use the Yahoo finance stock quote site.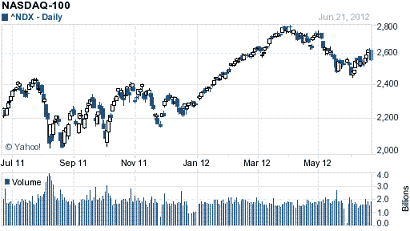 Nasdaq index fund powershares etf shares
There is also the option to use Nasdaq index fund ETF shares for charting and analysis of the stock market situation. The most known product is ETF QQQ, which is also known as "NASDAQ- 100 Index Tracking Stock®". This exchange traded fund is one of the oldest ETF shares available on US stock markets.
So it is possible to monitor the development of this major Nasdaq index using Nasdaq stock quotes for Powershares QQQ symbol. The chart of QQQ fund is below. You can compare this chart with the one above and you will see similarities.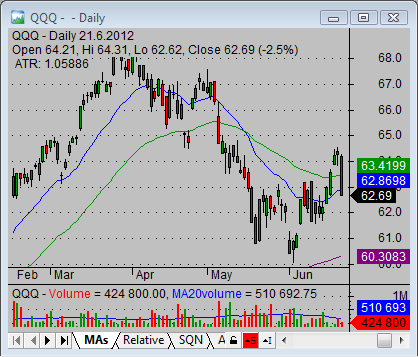 Tip for analysis of nasdaq index stock quotes
The analysis of Nasdaq quotes for index or for ETF QQQ should be done in accordance with your trading strategy. Here are the two most important issues I would like to stress for this task.
Keep your charts simple.
Do not fill them with many technical analysis indicators. Keep major trend technical analysis indicators like moving averages, and add volume, as only additional technical analysis indicator I can recommend, to these charts. Also do not forget to use candlestick charts for better reading of these index charts.
Use multiple time-frames. The selection of best time-frames should be based on your stock trading strategy and system you use. I could recommend adding daily time frame to every type of analysis whether you are a day trader or long-term investor.
Additional time frames could be lower if you are a daytrader. The best for day traders will also be 240-minutes (or 4-hours) chart, 1-hour chart and lower (30 minutes, 10 minutes). I personally use a 10-minutes chart for QQQ day trading strategies.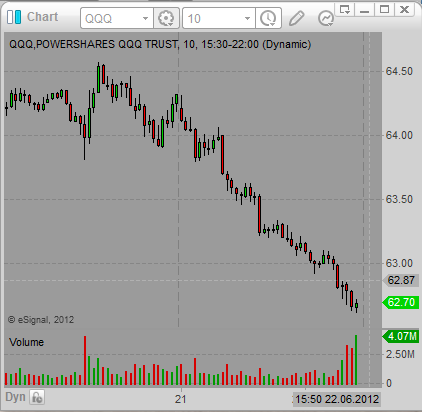 Swing traders, position traders and active investors should look to weekly time frame and also monthly time frame charts, which could be useful for definition of major support and resistance levels.
How to trade Nasdaq index?
The best way to trade the Nasdaq 100 index is to use Powershares QQQ shares mentioned above. This ETF is very liquid trading vehicle. This exchange traded fund is also very popular in the professional investors arena and many mutual funds, closed-end funds and hedge funds use investing strategies that include this Nasdaq index fund.
Private traders and investors could use this Powershares QQQ exchange traded fund for day trading strategies, swing trading strategies and also for mid term position trading strategies. They can be technically based or have some fundamental idea behind them.
There is also the option to use leveraged exchange traded funds that allow 2x or 3x leverage for movement in the price of the Nasdaq index. These leveraged ETF shares are suitable for day trading only, as they are able to hold this leverage only on an intraday basis.
Find more on related pages