Biotech ETF is popular biotechnology index fund that is used by many traders and investors. Well, there are more exchange traded funds listed on US stock exchanges that hold biotechnology stocks in their portfolio.
These biotech index funds represent a good option for short-term traders who can use them for stock market strategies in a swing trading system or position trading system.
Fundamentally based investors like this type of sector-based index funds too. Investing in biotechnology index fund represented by the selected ETF could well fit into a stock market investment strategy for high growth biotech stocks.
Which biotechnology index fund to trade ?
Today's situation with ETF securities is much better than several years ago. Technology-based investors and short-term traders could select between several different ETF securities that track biotech stocks. Here below I describe some of them that I like to analyze and trade. Although you could also find other exchange traded funds that tracks some biotechnology index or biotechnology stocks I personally prefer these mentioned below. And I recommend you to use them too.
Biotech spdr etf
SPDR S&P Biotech ETF with symbol XBI is another good exchange traded fund that holds biotechnology stocks in its portfolio. This exchange traded fund seeks to closely track different index than previous IBB ETF and it is S&P Biotechnology Select Industry Index.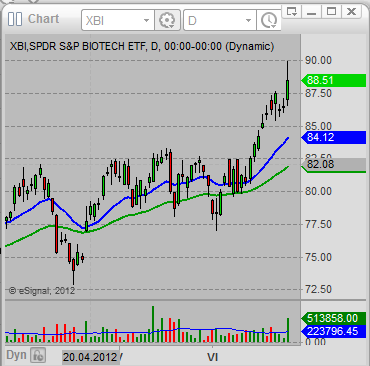 Biotech holdrs trust etf
Biotech Holdrs trust ETF was a very popular exchange traded fund some time ago. It was the only biotechnology sector ETF in the past. It lost a lot of its popularity and finally the issuers of this exchange traded funds changed. Now this BBH ETF is managed by Van Eck in its family of market vectors funds. It is now known as Market Vectors® Biotechnology ETF with stock market ticker BBH. This biotech exchange traded fund contains only 25 major biotechnology stocks of 25 of the largest U.S. listed, publicly traded biotech companies.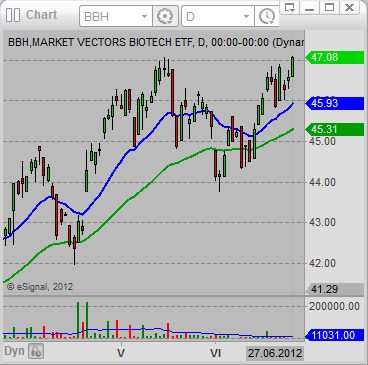 Find more on related pages