Stock trading programs are important tools for every equity trader. Online brokers offer different types of programs for equity trading with different features and functions.
It is not easy to say what type of stock trading programs is the best. Preferences of daytraders could differ from what swing traders or active investors expect to have in best trade execution programs.
Different types of stock trade software
So I would like to stress that there is not one single best program for traders that fits everybody's requirements. My opinion is that it is very good to sit and write something about your trading approach to the market before selecting your best trade execution programs.
Are you a daytrader or do you prefer to hold open positions for several days or weeks? Do you prefer to use stock trading programs provided by the broker for order entry only or do you want also to have ability to create stocks charts and analyze them realtime?
Trading alerts
It is important to have the ability to set up alerts. These alerts will notify you when your conditions are met. It is very good to use alerts to be notified when the price of monitored shares is moving close to the point of some action.
The type of actions is defined by your trade management rules but typically it will be either entry point or exit point or a level when it is necessary to move your stop using trailing stop techniques.
Here is an example of a simple window for the definition of alert conditions. This is available in
my broker's trade software.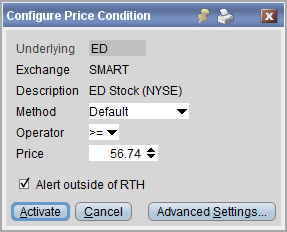 Real-time data
You have to have real-time data available in your broker order execution and account management software. Every ticker you want to monitor must have these data available. They are needed for alerts as mentioned above. But if you also like to have charts in your best stocks software then you need data – and real-time is best.
Here is an example of how real-time quotes are published in my online broker's trade platform:
Short selling availability
Every good trader or investors should also be prepared to trade stocks during declines. A short selling strategy should be one of several strategies incorporated in every trader's or investor's trading system and business plan.
Best equity market trading software allows you to check whether the shares you want to sell short are available for shorting.
The green sign on the picture below indicates that ED shares can be easily sold short.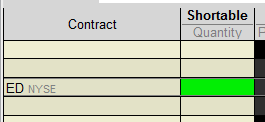 Attached order
Good platforms for traders should have good order management incorporated. One of the very good features is a possibility to attach one order to another. It helps you to place a stop loss order to your broker's system immediately when your entry order is filled.
There are attached orders on the picture below. The first one in trade entry order and the second one is a stop loss order.

It is not easy to find only one best stock trading software
As you can see, it could be a little tricky to find best stock trading software for every individual trader or investor. It takes some time to review several versions of trade execution programs.
It is also good to check some online forums and the section about programs for traders. Or to read some blogs or websites of individual traders with similar approaches to trading/investing and read their experiences.
Find more on related pages