DIA ETF tracks closely one of the most popular US stock market indexes – the Dow Jones Industrial Average. This index is designed to track major US based companies that are best representatives of US industrial sectors. These 30 companies change from time to time. This is one of the oldest stock indexes in the world.
Fund top holdings these days (01/2012) are: IBM, Chevron (CVX), Caterpillar Inc. (CAT), McDonalds Corp (MCD), Exxon Mobil (XOM) and 3M (MMM).
The symbol for this Dow exchange traded fund is DIA and is traded on NYSE Arca primarily. Here is chart of this Dow fund and also the Dow Jones Industrial Average index chart.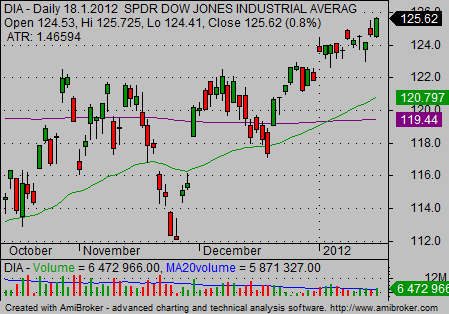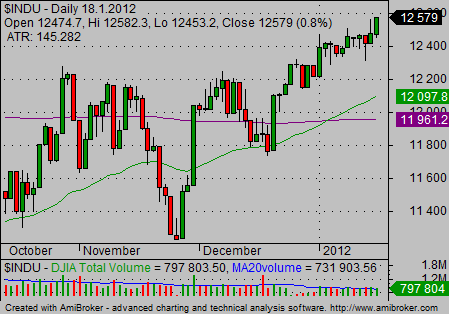 More funds tracking Dow Jones Average index
Other companies issuing exchange traded funds also created etfs tracking this major US stock market index.
Ishares issued IYY – iShares Dow Jones U.S. ETF. This fund tracks little bit different Dow Jones index, the US index. But it is not so different from former industrial average index.
Proshares is well known issuer of leveraged exchange traded funds. This company also issued leveraged and inverse funds tracking Dow 30 index. The DDM – Ultra Dow30 is two times positively leveraged to the daily performance of Dow Jones industrial index.
UDOW – UltraPro Dow30 is three times positively leveraged to the daily performance of Dow Jones industrial index.
DOG – Short Dow30 is inverse funds to daily performance of DJIA. DXD – UltraShort Dow30 is also inverse fund, but it is two times inversely leveraged to performance of DJIA.
How to use DJIA tracking funds
These funds can be easily used in all types of trading strategies. I personally use DIA in short term swing trading and for mid-term position trades. But DIA is also very popular in daytrading community. And active investors use this US stock market proxy in their ETF portfolios too.
Find more on related pages