Using the China ETF, India or Russia ETF is a good way to trade an Asian or emerging markets. It can be difficult to trade directly on local markets, so these emerging markets funds offer a good way to trade.
China ETF list
This list of China-related ETFs is already big enough for any trader or investor. There is also an inverse fund for the Chinese stock market allowing you to participate in the decline of Chinese stocks.
iShares FTSE/Xinhua China 25 Index
This exchange traded fund with symbol FXI tracks the FTSE/Xinhua China 25 Index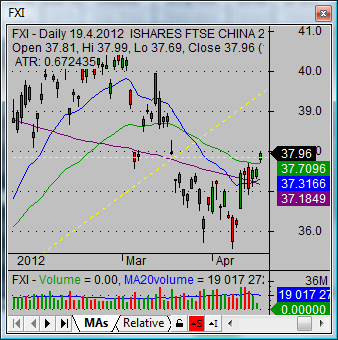 SPDR S&P China ETF , symbol GXC
This exchange traded fund tracks the S&P/Citigroup BMI China Index. This index defines and measures what's available for investment of those publicly traded companies based in China that are legally available to foreign investors.
PowerShares Golden Dragon Halter USX China Portfolio, symbol PGJ
This fund is little different from previous ETFs. It replicates the Halter USX China Index, which is comprised of the U.S. listed securities of companies that derive a majority of their revenue from the People's Republic of China.
UltraShort FTSE/Xinhua China 25, symbol FXP
This fund offers the option to perform in the opposite way. It means that this ultra short ETF corresponds to twice the inverse of the daily performance of the FTSE/Xinhua China 25 Index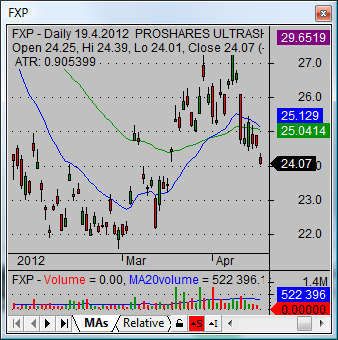 This ultra short fund makes gain when China stock market index is going down. It is leveraged exchange traded fund. So there are specific risks for trading of such leveraged funds and I recommend to understand all of them before entering a position with a fund.
India ETF list
There are two stocks that track stock market in India.
The older one is the INP , iPath MSCI India Index ETN. This stock tracks MSCI India Total Return Index. It's now built from the top 68 companies by market capitalization listed on the Nation Stock Exchange of India.
The second one is PowerShares India Portfolio with symbol PIN. It will replicate the Indian stock market as a whole through a group of 50 Indian stocks selected from a universe of the largest companies listed on two major Indian exchanges.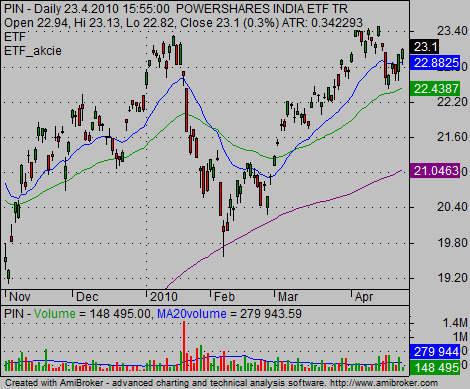 Russia ETF
The Russia exchange traded fund seeks to replicate as closely as possible, before fees and expenses, the total return performance of the DAXglobal Russia+ Index. The Index provides targeted exposure to publicly traded Russian issuers and is designed to track the price movement of Russian companies traded on global exchanges.
The symbol is RSX and name Market Vectors Russia ETF.
Its most important holdings are Lukoil, Rosneft Oil, Gazprom, Sberbank, Norilsk Nickel and more.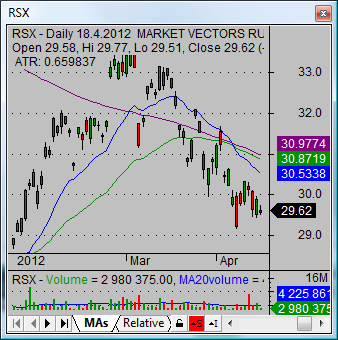 The international exchange traded fund is member of European group in my list I regularly monitor for the best ETF pick to trade.
More international exchange traded funds
If you are interested in other regional ETFs like Latin America, Europe or Asia, look to this list. You can trade almost all important and also very small International stock exchanges in the world using exchange traded funds listed on US stock exchanges. The similar way how I trade them using my best etf trading strategies.
Find more on related pages