It's complicated to find the best swing trade strategy for beginners. If you start with stock trading, you often don't know what direction to go. Candlesticks, trend, volume, chart patterns, trading styles, the Fed, the fundamentals, many different indicators,  and those are only a few terms you can find regarding stock trading.
The only way to find the best trading strategy for beginners is to keep the process simple. Don't try to learn everything at once. Learn step by step and gain more knowledge over time. Here, I'd like to show you a simple but profitable swing trading strategy that you can take and start with.
Definition of simple swing trade strategy
The core of this successful stock trading strategy is a breakout of a strong resistance level. The strongest horizontal resistance the better. And so the best is a resistance level defined by a 52-week high point.
This one-year high is very strong resistance. The other advantage is many other traders and also the popular media watch this area. This means that when the price breaks this resistance level, it's often mentioned in the media. This brings many new buyers to the game, and the price advances. Such an advance can last a long time if the market trend is supportive.
Here's chart example of such a 52-week breakout trade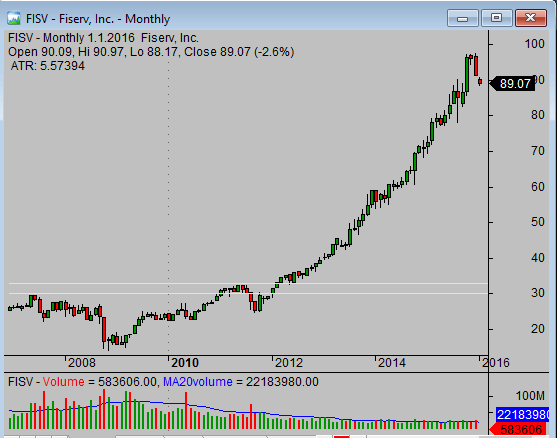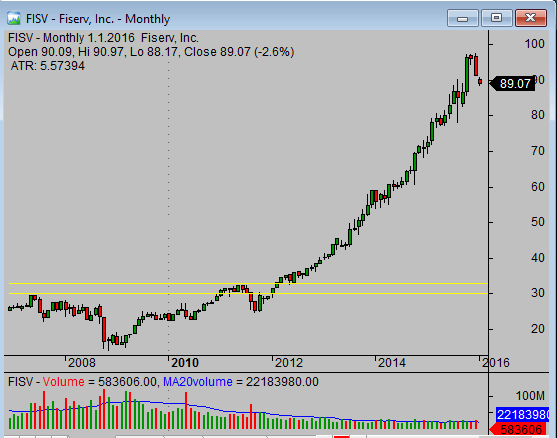 Characteristics of a 52-week breakout stock trade strategy opportunity
When you look for the best stock pick for a 52-week breakout strategy, you have to know what the typical characteristics for such stock are. Most parameters are based on technicals, and a 52-week high is a technical parameter of the stock price chart.
Here's the list :
The market is in a bullish trend.
The stock is near its resistance.
The resistance is based on a 52-week resistance level.
The stock has moved in a tight range just under the resistance for several days already.
The volume is under average but finally picks up during the last few days.
This is an example of a 52-week high stock pick before the breakout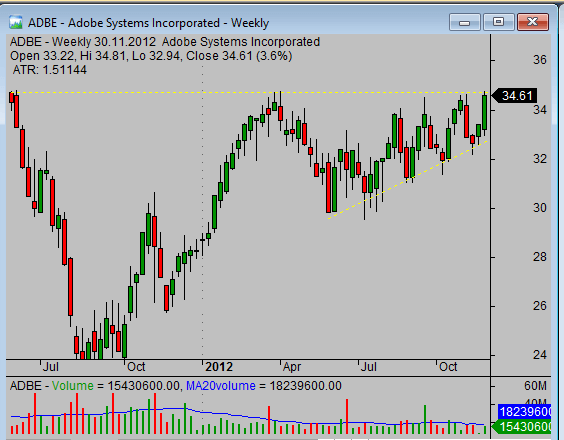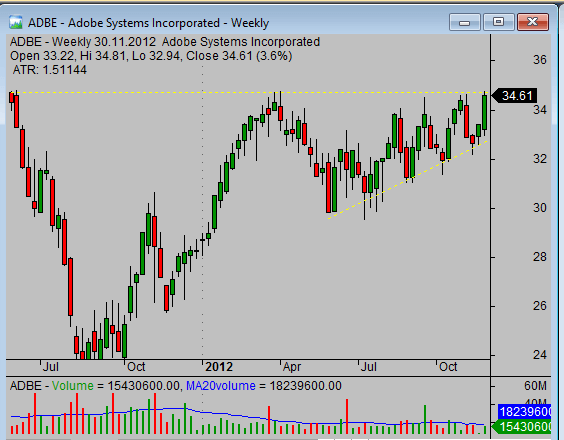 The advantages of this simple but successful swing trade strategy
The breakout can be very strong as many traders and investors rush to buy stock.
The media popularize such stocks and additional, mostly less experienced investors come to buy the stock during the days following a breakout. That leads to a further and quick price increase of stock.
You reach your price target quite quickly.
The price movement can reach much higher prices than you expected, so you can make more money on these trades.
The disadvantages of this breakout strategy for trading stocks
You can have a hard time entering the trade during the first phase of a breakout because the price movement can be explosive and very quick.
You have to use the market order that you placed in advance with your broker. You have to use some alert system to notify you when the stock is close to its 52-week price level.
It isn't a good strategy for bearish market conditions.
Steps needed for profitable use of the breakout short-term stock trading strategies
This trading strategy is really simple. You can use it over and over using many different stock tickers. The most important trading condition is that the market is bullish.
When you implement this trading strategy, you have to define these further steps:
Screening and selecting the best stock picks for this stock-buying strategy
Rules to define entry point, target area, and stop-loss level
Stock swing trade management rules
These rules aren't complicated, but you have to prepare them in advance before you start real trading. When you create these rules, you have to test it first. A stock market simulator or paper trading your short-term strategy is the key to see how it works.
You can find plenty of information about the 52-week breakout strategy details on another page. But if you want to shorten the learning time, you can join my stock trading club. I publish many stock trade picks and setups based on the breakout swing trade strategy regularly. You can learn from these trades much more quickly.
Find more on related pages