Looking for the best stock brokers is one of the tasks every trader does in the first phases of his/her career. It can look like a complicated issue but opening an account with a good online trading broker is not a very complicated process.
Many traders or self-directed investors start their process of learning about trading and investing with
this task. I would like to say that this task should be done after the trader or investor has already developed and tested his own stock trading strategies and is now ready to start to trade on the live account of his/her top brokers.
So if you are ready to discuss the selection of the top stock broker then let's begin. There is one important point. There is no universal top broker or day trading brokerage. One company will be good for you and another for your friend. It is all based on your preferences and also on your style.
Short selling stocks inventory
I have noticed that the lowest trading fees are not so important for me. OK – I do not accept high fees either. But I also look for other features of good brokers.
One very good feature of best stock brokers is good inventory of stocks to borrow when a trader wants to make a short sell trade. As you know, such a trade is when you want to make profit based on falling price of shares.
But you need to be able to borrow shares before entering into such a trade by selling shares short. And this is a job for your broker. If your broker will not allow you to borrow shares, you cannot make such a trade.
So my recommendation is – check short selling inventory during your brokers' reviews.
There are two ways to find out if shares are available for short selling.
Top stock brokers publish their list of available shares online each day. Another option is that they allow you to check it directly in software provided by these brokers for trade execution.
Here is the first option. There is a screenshot of the list published by Interactive Brokers, very good online broker.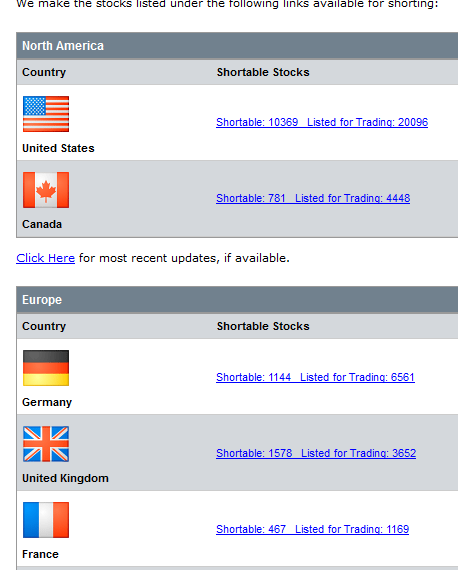 As you can see, the best stock brokers could offer you really large short selling inventory. And they have more than just only US stocks. There are also European stocks and Asian stocks available for short selling.
The second option is to use trading platform provided by brokers to obtain this info. It is not common that this info is available in a software provided by brokers. Check with your brokers before using their services.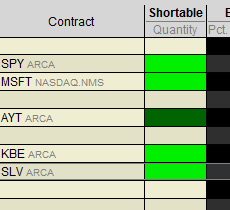 This is example of Interactive Brokers Trading Workstation that is trading platform for this broker. It offers possibility to check if there are any shares available for short selling.
Light green means "There are at least 1000 shares available for short." Dark green means "The contract could be available for short sale if shares can be located." And the red color in the box means that "Short selling is not available for this stock today".
Find more on related pages