This is an example how I trade gold online using exchange traded funds. My trading strategy applied to gold ETFs works as well as with other exchange traded funds. The trade happened in 2012 but you can this strategy anytime.
Situation analysis
Gold ETFs, especially GLD, showed nice strength in past few days. GLD price pushed through the 200-day moving average. I noticed that the price started to consolidate after a huge move up.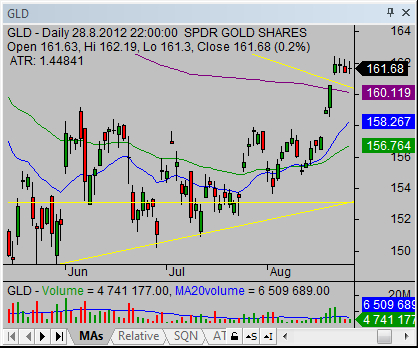 The second important point was that the price of GLD broke above downtrend-line resistance defined by a weekly gold chart.
I created the idea that new rally is going to start and it could be good to trade gold online with bullish bias.
I prepared the trade setup for GLD, as I prefer it. But you can choose another ticker from the list of of gold ETFs.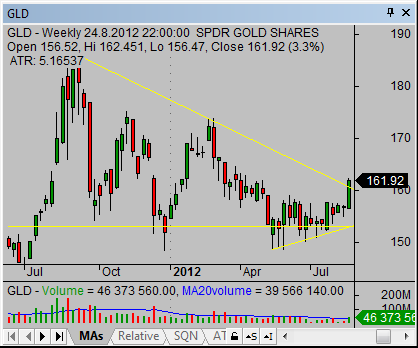 Online gold trade parameters
I set an entry point. I want to enter the trade when the price of GLD ETF reaches new high above 162.40 USD. I set a trigger price to 162.67 USD.
The stop-loss level I have set at 161.10 USD. It is below the range defined by 4 small candlesticks in this small pullback. If the price first reaches my entry price and then comes back to stop-loss level, it will be signal of failure.
I plan to use a trailing-stop-loss technique to move my risk level during a trade development.
Finally, I wanted to set up a possible target area for expected uptrend move. I used a weekly chart above and found the next level of resistance near the 170 USD. I defined my exit price at $169.20.
Risk reward for this gold trade
Before I can place the ticker into a watch-list I have to check if the risk-reward-ratio is favorable. The above mentioned values defined that r:r ratios is above 4, so it is a really good one.
Gold trade execution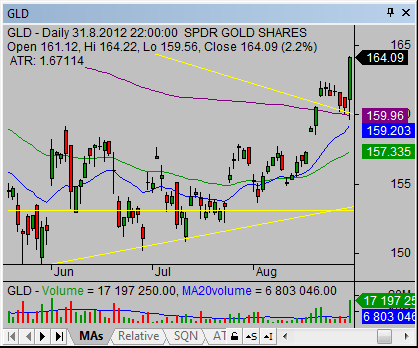 I placed GLD ticker into my watch list and waited. The entry price triggered over the next few days on 31.8.2012. See the situation on the next chart below.
The move during the entry day was so huge that I expected strong follow up over the next days. It really happened and my target price area was reached in day 5. I exited the trade on 7.9.2012 right under 169, the exact price was 168.82.
Results of this gld etf trade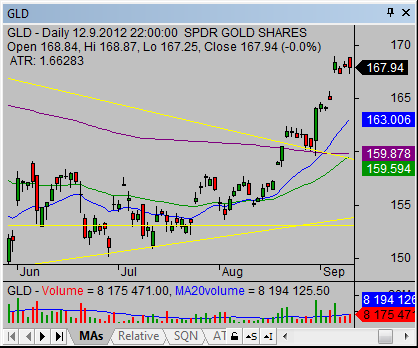 The trade worked as expected. I made almost the $6 per share on this trade. The momentum and trend move were really strong.
Find more on related pages